Last updated: August 10th 2017
Staying in shape and maintaining a healthy body can be difficult. Whenever the topic arises, you'll hear comments such as "I am working so hard, but I just can't lose weight!" or "I go to the gym five times a week and only eat salads, but I'm still struggling to lose weight!", or "I'm doing everything right, but I still feel fat, sick and tired all the time". Do you feel like that? You're most definitely not alone. Even worse than not losing weight, is to lose a whole lot of weight, just to gain it all back again.
In this article, we're going to look at four reasons why you may be struggling to lose weight – and it's not what you think. We will look at the common beliefs we're taught that stand in the way of permanent weight loss. Let's dive right in!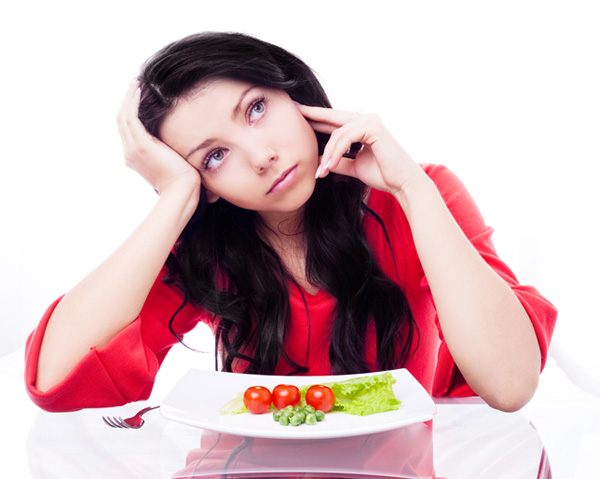 # 1:  Why Dieting Doesn't Work
Have you ever been on a diet? Be honest with yourself now and count how many diets you have been on:  The soup diet, the fruit-fast, the 3/7/10 day cleanse, the high-protein diet, the low fat diet, the high-carb diet, cutting out sugar and carbs… the list is endless.
Diets fail you from the get-go, starting with the mindset of "going on" a diet. Whenever you go on something, you have to go off it. Going on a diet implies that you must go off it at some point, which is usually sooner rather than later.  The majority of diets are unsustainable in the long term, due to the restrictive nature of whatever eating program you are following, the time it takes to prepare the food, or just because your body craves nutrients from the food groups you have to exclude.
Granted, people often lose massive amounts of weight in the first weeks of a new fad diet, but most often, they have already started gaining some of that weight back by the time they reach the 6-month mark. Here's why:
Diets often involve some level of starvation, and when your body does not receive enough nutrients, it will hold onto fat cells for energy.
Diets don't detoxify, and when the body has a high toxin load, it cannot function optimally, which means you will still feel sick, tired and fat.
Diets most often don't provide the required nutrients. Since you're eating less than you should, and cutting out certain food groups, your body is probably not getting all the nutrients it needs for optimal functioning.
High-protein/Low-carbohydrate diets have been popular for a while now and people get great results initially, because it breaks down fat, but offers little nutritional support. Carbohydrates are the body's fuel and without them, you will feel tired and confused. It may even lead to nausea and fainting. When you go off the diet, you will most likely gain the weight back again rapidly.
Low-fat diets are the most popular, but it has the highest level of failure. Why? Because healthy fats are crucial for maintaining your body's balance. You need healthy fats to help manage your satisfaction and to produce the hormones you need for your body to function as it should. Fat also contributes to taste, so by reducing or eliminating all fats from your diet, you will be left hungry and you will crave all the wrong things.
High-Carbohydrate diets focus on energy foods, such as grains, potatoes, rice, pastas and breads. While these foods are required by the body, too much is not a good thing, as it can negatively affect the blood-sugar levels and cause insulin resistance. Since carbs are often high in calories, it will prevent the body from burning fat, resulting in weight gain.
Diet shakes don't work, because you're simply exchanging a high-calorie diet of the wrong foods (pizza, cake, processed and fast foods), for a low-calorie diet of processed, nutritionally inadequate soy milk and whey protein with a few added vitamins. It is by no means nutritionally dense food.
Calorie counting is a waste of time, because it is not the calories that matter, but instead the nutritional value of your food. You will have better results eating 2,000 calories worth of nutritionally-dense food than you would by eating 1,200 calories of junk food.
In short, traditional diets don't deliver permanent weight loss, because they force you to do something that is unnatural and unbalanced. The good news is that with the information I'm going to share with you in this series, you will be able to stop wasting time and money on dieting, which only brings temporary results.
Expert Tip:  Enjoy a balanced diet with a range of nutritionally-dense, colorful and tasty foods from all the food groups.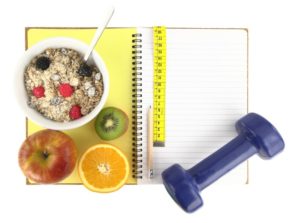 # 2:  Why Exercise Won't Make You Thin
58 million Americans pay for gym memberships or health clubs, yet, we're facing an obesity epidemic. Granted, buying a gym membership is no guarantee that you will actually exercise, and even if you do, there are many variables that may still stand in the way of your permanent weight loss success.
I don't know about you, but I think I'm allergic to exercise… When I exercise, I perspire profusely and I struggle to breathe! Jokes aside, I'm here to tell you today that you don't have to exercise to lose weight. By all means, exercise for the many health benefits it offers, but don't rely on exercise alone to help you lose weight.
You Can't Outrun Your Fork!

Did You Know? In order to lose one pound through exercise alone, you need to burn 3,500 calories, which equates to running 32 miles or walking on the treadmill for 8 hours (at 4 miles per hour).
Consuming those 3,500 calories is much easier though, since a Triple Whopper at Burger King has 1,730 calories – that's without the fries and soda.
Want something a little "healthier"?  How about Bistro Shrimp Pasta from Cheesecake Factory? You'd be shocked to find that the crispy battered shrimp with fresh mushrooms, tomato, arugula and spaghettini with basil-garlic-lemon cream sauce will add a whopping 3,120 calories to your daily intake. Still want to count calories so that you can train them off?
In an article for Time, chair for diabetes and metabolism at Louisiana State university, Eric Ravussin said:  "In general, for weight loss, exercise is pretty useless."  While exercise most definitely burns calories, which is vital in losing weight, exercise may stimulate hunger, causing you to eat more and negating the weight-loss benefits. And when you don't lose weight for all those hours sweating it out in the gym, it becomes kind of difficult to motivate yourself to get up early every morning before work.  So not only do you not lose weight, but you also don't get the health benefits exercise provides, which creates a vicious cycle akin to yo-yo dieting.  I believe that if you focus on your health first, you will see the weight start falling off.
I want to encourage you to work as much activity into your day as you can, especially if you don't like formal exercise. Stay away from the couch or bed and up your physical activity as much as possible, because exercise is good for your general health and wellbeing. Light, non-formal exercise:
helps curb the appetite
keeps you busy, so you're less likely to eat because you're bored
improves your mood and supports mental health
helps decrease blood pressure
By keeping active throughout the day with activities that make exercise fun (going for a walk, playing with the kids or dogs, going hiking or biking, taking the stairs instead of the escalator, and walking instead of driving), you will start to feel your muscles firming up and you will notice the above benefits. That is likely to motivate you to make the transition to formal exercise, eventually.
Most importantly though, is to remember that your body needs fuel to support any exercise regime. Fuel your body with nutrient-rich foods that will prevent your cells from storing fat.
# 3:  Why a Sugar Addiction Is Worse Than Drug Addiction
Sugar addiction creeps up on you like a thief in the night. Most people think they don't they eat a lot of sugar, because they limit their intake of sodas, candies, pies and cakes. But sugar is hidden in most foods, including "healthy" muffins, bread, fruit juices and dried fruits.
What is the problem with sugar, though? Is it just because it goes straight to your hips? There's that, of course, but here are the more disturbing facts:
Sugar has no nutritional value, but it is toxic to the digestive system. It leads to diabetes, heart disease and strokes.
Sugar is addictive. It stimulates dopamine and opioid receptors, – just like cocaine and morphine do – which cause you to want more sugar and to binge.
Studies have shown that sugar causes cancer cells to multiply more rapidly. The Cancer Research medical journal has shown that fructose is especially harmful in this way.
Sugar is stored in the liver as glycogen. When the liver expands, glycogen is expelled in the form of fatty acids, which are then expelled to the hips, butt, belly and thighs. Glycogen that ends up in the vital organs can be life-threatening.
Sugar causes insulin levels to rise, and if it remains high, it stores fat, instead of burning it, which results in inflammation. High levels of insulin will cause your body to store more fat, while low levels of insulin will cause your body to store less fat.
According to Judith J. Wurtman, nutritionist at MIT, refined carbohydrates (breads, pies, cakes and candies) raise your serotonin (calming hormones) and endorphins (happy hormones).  That's why you feel relaxed and at ease when you enjoy those types of food. When you associate good feelings with certain foods, it is easy to develop emotional eating problems. When you are stressed, you will start craving those foods. And the more you self-medicate, the more you crave those good feelings, which you feed with bad foods.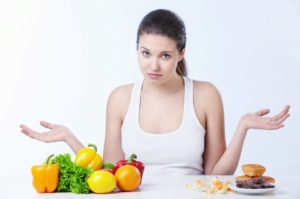 Expert Tip:  Dealing with sugar cravings is the first step of detoxification, which will help balance your body and hormones. During the process, you may feel nauseous and headachy, but detox only takes about 3-4 days and offers incredible health benefits. It is also a crucial cornerstone for permanent weight loss.
Restaurants and fast food joints exploit the addictive nature of sugar by combining it with just the perfect combination of salt and fat to create irresistible, addictive taste sensations that make people come back for more. Unfortunately, fast food delivers very little – if anything – in terms of nutrition, but instead, pack a toxic punch.
Fight the effects of sugar addiction by learning to identify the names that are used to hide sugar in your food, especially in packaged, processed and low-fat items. Always check the labels, and if it contains more than 5 grams per serving of the following sugars, throw it out.
sucrose (common table sugar)
high-fructose corn syrup
glucose
fructose (fruit sugar)
dextrose (corn sugar)
maltose (malt sugar)
lactose (milk sugar)
corn sweetener
agave
raw sugar
brown sugar
powdered sugar
evaporated cane juice
molasses
maple sugar
honey
dates
raw cane sugar
coconut sugar
One teaspoon of sugar equals four grams. The average soda has 40 grams of sugar, which therefore equals 10 teaspoons. Would you sit down at your kitchen table and proceed to eat 10 spoonful's of sugar?  (I didn't think so.)  The World Health Organization recommends that we limit our sugar intake to 6 teaspoons per day. It's no surprise that chocolate and soda contain a lot of sugar (Milk Chocolate M&M – 7.5 teaspoons, Dove chocolate bar – 6 teaspoons, Coca Cola can – 8.25 teaspoons, Old Jamaica Ginger Beer can – 13 teaspoons), but the sugar content of the following items may come as a shock:
| | |
| --- | --- |
| Food | Hidden Sugar Content (per serving) |
| Sweet French salad dressing / Vinaigrette | 1.4 teaspoons |
| Soups and sauces | 1-2.4 teaspoons (same as a slice of cake!) |
| Whole grain bread (1 slice) | 0.4 teaspoon |
| Cider / Sherry | 4 teaspoons |
| Wheaties | 3.75 teaspoons |
| Shredded Wheat | 0.1 teaspoon |
| Lucky Charms | 9 teaspoons |
By reducing your sugar intake, it will help prevent your pancreas from releasing too much insulin.  Remember, extra insulin equals extra stored fat.
Expert Tip:  Instead of sugar, use stevia to sweeten your food and beverages. Virtually calorie-free, it has no effect on your blood glucose levels. (Be mindful when sourcing, as manufactures like to add sneaky additives. It's best to use the small green leaves from the stevia plant.)
# 4:  How Toxins Make You Fat, Sick, and Tired
Are you tired of feeling tired, uncomfortable in your own skin, and getting sick all the time? If your immune system is low (this causes you to get sick more often than you should) toxins are most likely the problem.  If you're battling to lose weight and you experience unrelenting fatigue… toxins are to blame!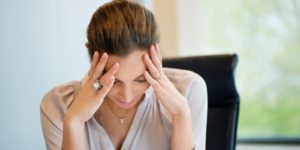 Every day, we're exposed to two categories of toxins –
Environmental toxins:  These are found in medications, pollutants, food additives, household cleaners, and pesticides. Internal toxins in body and mind cause yeast and bacterial infections, fungal overgrowth, and food allergies. These toxins are released by dental, medical and cosmetic implants, parasitic infections, and mercury dental fillings.
Emotional toxins:  You've heard the expression "stress makes you sick" and it's true that worry, fear and stress release toxins into your body. When you are stressed, your body releases cortisol, which increases glucose in your bloodstream. Long-term stress causes over-exposure to cortisol, which is then stored in the body, resulting in a range of issues such as depression, digestive problems, sleep problems and weight gain – especially in the abdominal region.
In 2002, the Journal of Alternative and Complementary Medicine blamed toxins for the obesity epidemic. Since the 1900s, eighty thousand new chemicals have been introduced and researchers blame this increase in exposure to toxins for the comparable increase in degenerative diseases, such as diabetes, cancer, arthritis, cholesterol, heart disease and Parkinson's.
To some degree, we are all toxic – and this is not limited to overweight people. Even skinny people may suffer from toxic overload. A buildup of toxins can cause the organs to become overwhelmed, which in turn, will cause the body to malfunction.
In order to lose weight healthily and permanently, you need to detox. Since toxins are stored in the fat cells, it will hold onto those toxins for dear life and prevent your body from performing optimally. If you feel sick, fat and tired all the time, you may very well be carrying a toxic overload.
Ask yourself:
Do you crave sugar, bread, potatoes or white rice?
Do you eat fast food, TV dinners, or lunch meat three or more times a week?
Do you drink coffee or tea more than twice a day?
Do you drink one of more diet soda per day?
Do you use artificial sweetener once a day?
Do you get less than eight hours sleep every night?
Do you drink 64 ounces or less of fresh, clean, purified water per day?
Is your body very sensitive to chemicals, fumes and smoke in the environment?
Are you currently taking medications, antidepressants or antibiotics, or have you done so in the past?
Are you currently taking birth control pills or hormone replacement therapy?
Do you frequently suffer from yeast infections?
Do you have any silver dental fillings?
Do you use commercial cosmetics, deodorants or household cleaners?
Do you eat non-organic fruits, vegetables and meat?
Are you, or have you smoked in the past, or are you exposed to secondhand smoke?
Do you have cellulite, or are you overweight?
Are you exposed to environmental toxins at work?
Do you live in a metropolitan area, or near factories, stations or a big airport?
Do you often feel sluggish, fatigued or tired during the day?
Do you struggle to focus or concentrate?
Do you suffer from bloating, gas or indigestion after eating?
Do you get two or more colds or flu per year?
Do you suffer from recurring postnasal drip, sinus or congestion?
Have you noticed that your tongue has a white coating, or that you have bad breath?
Have you noticed that your urine smells strong?
Do you have dark circles or puffiness under your eyes?
Do you often feel sad or depressed?
Do you often feel stressed or anxious?
Do you suffer from skin disorders such as rashes, hives or acne?
Do you have fewer than one bowel movement per day, or do you often feel constipated?
Do you suffer from insomnia?
Do you suffer from dry, sensitive, itchy or burning eyes?
If you answered yes to 5-19 of the above questions, detoxification will benefit you. If you answered yes to 20 or more questions, your body will benefit significantly from detoxification.  As a toxic overload causes a host of symptoms, including gastric issues, fatigue, brain fog, weight gain, infections, headaches, allergies and chronic pain.
Medicare and Medicaid Service may offer ab tests to determine the level of toxicity in your body. If you decide to go for that, look for a CLIA-certified test. You can also find similar tests on LabTestingDirect.com and LabSafe.com, which offer more than 40 different toxin tests, at rates that vary from $100 to $400.
While it is true that the body detoxifies itself, understand that when your body is overburdened with toxins it can no longer function effectively. This includes the natural process of detoxification. However, there are many ways to help your body detoxify in order to help you become healthier and lose weight. If you struggle to stick to a healthy diet because of strong cravings, you will find that detoxification helps to eliminate those cravings.
While it is normal for your metabolism to slow down when you reach 30-35, not all the weight in your body is fat – much of it is probably waste. Years of poor eating habits cause fluid retention, along with built up intestinal waste matter in your colon. Getting rid of those toxins will help speed up your metabolism to its optimum level for your station in life.

Detox Controversy
Most of the medical fraternity will tell you that you don't need to detox, but that's why it is important to understand the different approaches of the medical industry and the wellness industry:
The medical industry treats symptoms with medicine (which most often contains toxins). Since they are there to treat disease, a relatively small percentage of medical school focuses on nutrition. The result is that people keep returning to the doctor month after month for more medicine to treat yet another illness. Most medicines don't cure, which means that they can only alleviate symptoms.
The wellness industry, in contrast, spends very little time learning about medicine, but rather about ways in which to prevent illness with nutrition instead. They educate people on how whole foods can assist in healing the body, focusing on treating the cause of the problem, instead of the effect.
The SAD (Standard American Diet) State of Our Food & How it Damages the Body
Food quality is the critical link between toxic overload and weight gain. We need food to provide us with energy, and the more nutritious your food, the better. In order to get the most from your diet, your food must be:
organic
nutrient-rich
free from toxins
Good food offers good absorption and bioavailability of nutrients for a healthier body.
The Standard American Diet is a toxic sh*tstorm of artificial colors and flavors, sugar, fat, sodium, preservatives, additives, hormones, antibiotics and everything that should not be in your body. Our food is cooked in processed vegetable oils, hydrogenated oils, and saturated fats. I am constantly amazed at how resilient our bodies are.
How Toxins Make You Fat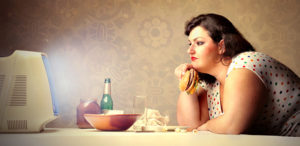 One thing that is often overlooked by most diets, is the fact that toxins are to blame for weight gain. When your body is overburdened with toxins, the energy that should be burning calories is used to detoxify instead. Therefore, if your body is healthy and free from toxins, it will be better able to burn fat.
The good news is that toxins are usually stored in fat cells, which is better than being in your bloodstream (think of the body detoxing as a survival mechanism). However, it tends to hold onto those fat cells, causing them to grow bigger and making permanent weight loss impossible. Toxins affect not only your weight loss efforts, but can also damage your thyroid. Here are some of the many ways in which toxins directly affect weight loss:
Toxins interfere with your appetite.
Toxins cause hormonal imbalances, causing signals that tell your brain when you have eaten enough, to slow down.
Toxins hinder the body's fat burning ability by as much as 20%.
Toxins slow down the thyroid, which affects the metabolism negatively.
Detoxification is key to good health and weight loss.
I hope that this article on the four biggest truths about why weight loss can be so difficult, has shed some light on the reasons why your diet doesn't seem to be working. While we face many challenges in this modern world in which we live, awareness of the hidden obstacles can help you achieve your goal of good health, boundless energy and permanent weight loss.
References:
http://www.statisticbrain.com/gym-membership-statistics/
https://www.sscnet.ucla.edu/polisci/faculty/chwe/austen/cloud2009.pdf
http://www.nytimes.com/1982/11/17/garden/how-diet-can-affect-mood-and-behavior.html?pagewanted=all
http://www.who.int/nutrition/publications/guidelines/sugars_intake/en/
http://www.ncbi.nlm.nih.gov/pubmed/12006126