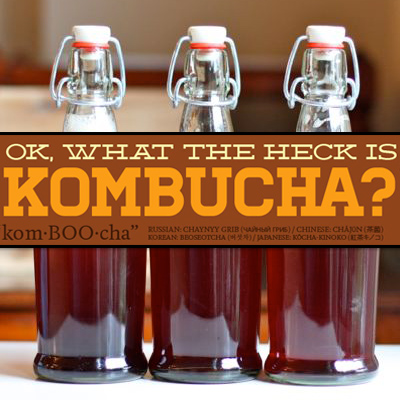 Last updated: November 11th 2017

Kombucha tea is a great source of healthy-bacteria and nutrients. It has recently taken the alternative health industry by storm. Who would've thought that a fermented tea could support digestion and enhance the immune system? And why is that important, anyway?
Well, by achieving optimum health in these two areas, the human body can start healing and functioning as it was meant to. Your mental, emotional, physical, and hormonal health are all rooted in your immune system. And in order for your immune system to function properly, your digestive system needs to be free from allergies and intolerances. These set off unwanted physical responses.
According to Dr. Axe, Kombucha – or as the ancient Chinese referred to it, the "Immortal Health Elixir" – has the ability to heal stomach ulcers and leaky gut. It has even been proven to be equally as effective as commonly prescribed heartburn and GERD medications. Better yet, it has none of the nasty side effects.
So what is Kombucha, Anyway?
Kombucha tea is a fermented tea-based probiotic drink that is often called "mushroom tea", although it contains no mushrooms; that thought came from the fact that the tea contains a gelatinous blob, which sits inside the Kombucha as it brews. Lightly effervescent, the "mushroom" is steeped in a sweetened green and or black tea.
Confused? Stick with me and it will all become clear.
Some people start drinking it as a functional food and then fall in love with it for both the taste and health benefits it offers.
Others use Kombucha tea as an alternative treatment for:
❏ Digestive issues
❏ Rheumatism
❏ Skin conditions
❏ Memory loss
❏ Hair loss
Expert Tip: Apply Kombucha tea directly to your skin. According to Alex Lauder Homeopathic Dr.

Kombucha Tea Health Benefits
Why should you add yet another super health-boosting drink to your diet?
Kombucha is not just any old supplement. It contains a variety of living organisms, which makes it an extremely special probiotic drink (and it is so much cheaper than commercial probiotics!).
It is packed with vitamins, enzymes, and beneficial acids that can revolutionize your health. Many incredible health benefits have been reported by people who have used it, thanks to its powerful ingredients.
Kombucha is a perfect blend of nutrients to keep you physically healthy, emotionally balanced and mentally alert while healing, improving and strengthening various bodily functions.
Each batch contains differing quantities of beneficial yeasts, acetobacter, gluconic acid and acetic acid. Let's look at how those ingredients benefit the human body.
The yeast and bacteria strains in Kombucha provide the health benefits, fizz and flavor. However, the cultures will be different in each batch, as factors such as the initial culture, tea, sugar brewing time and culturing temperature will all play a role in the microbial composition of your brew.
Here are some of the beneficial yeast cultures that have been recorded in various studies:
● Acetobacter 2
● Saccharomyces 2
● Brettanomyces 2
● Lactobacillus 2
● Pediococcus 2
● Gluconacetobacter kombuchae 2
● Zygosaccharomyces kombuchaensis 3
Beneficial yeasts fight the growth of candida and other bad yeasts!
In addition to these cultures, Kombucha also contains: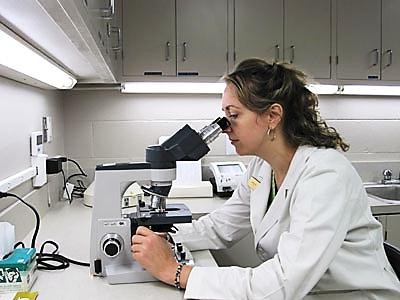 Flavonoids (theaflavin, quercetin and catechins) that promote heart health, reduce inflammation and fight cancer.
Glucuronic acid that chelates heavy metals and fights other toxins, and aids in the absorption of iron and zinc.
Gluconic acid that regulates pH.
Acetic acid, a blood-sugar stabilizing microbial acid, and polyphenols that boosts weight loss.
Additionally, most batches of Kombucha contain:
➔ A liver detox and protective compound that removes toxic substances from the body. Antioxidant properties support the immune system, creating a powerful defense against free radicals. These antioxidants protect against chronic conditions and aging.
➔ B-vitamins, vitamin C, usnic acid, malic acid, butyric acid, lactic acid, enzymes and amino acids… all provide pain relief. They also have anti-arthritic, anti-spasmodic and anti-bacterial effects.
➔ The healthy bacteria in Kombucha tea supports and regulates the intestinal flora. These good bacteria can help reduce edema, kidney conditions, and sluggish bowels.
➔ Furthermore, Kombucha can help stabilize blood pressure and cholesterol levels, and soften the veins to aid circulation, which leads to improved digestion and metabolism. The powerful nutritional properties in Kombucha can stimulate the body's natural immune response, having an anti-biotic effect.
➔ Kombucha has even been reported to help prevent and alleviate periodontal disease, which is prevalent in diabetics. The blood-sugar stabilizing effects can benefit those who want to control their blood-sugar levels.
➔ When Kombucha was first founded by the Ancient Chinese 2000 years ago, it was often prescribed for sleep disorders, mental conditions, and inflammation.
➔ Drink a glass of Kombucha tea daily as a vital tonic, or as needed to improve your health condition. I bet you'll love it!
Now that you know WHY you should take Kombucha tea, let's get down and dirty with the How To's…
Kombucha Scoby aka: the Mushroom (or Blob)
Sounds eeeeeeuuww, right? It doesn't look that great either, but the tea made from it actually tastes pretty good – kind of like an apple cider. (And I'll share some recipes that will have the whole family hooked on good health. Keep reading!)
To start your own Kombucha brewery in your kitchen, you will need a SCOBY (symbiotic colony of bacteria and yeast), also known as the culture, "mother," or "mushroom". There are three ways to get one:
❏ Ask a friend who brews Kombucha for one.
❏ Order your own fresh Kombucha SCOBY online here.
❏ Grow your own Kombucha SCOBY.
How to Grow Your Own SCOBY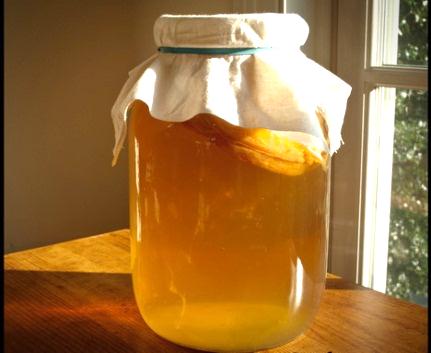 If you don't have a friend who has one, and you don't want to buy one, you can make your own. Simply pour a bottle of and a cup of green and or black sweetened tea (made using filtered water) into a glass jar. Place a kitchen towel over the top of the jar and secure with an elastic band. Let it sit for a few days until the film at the top is approximately 1/4 inch thick.
When done, there should also be about half a cup of liquid, which you should keep. You will need it to make your next batch of tea.
Expert Tip: When buying your SCOBY online, make sure it's raw, organic and unflavored.

How to Take Care of Your SCOBY Baby
Your SCOBY will need some tender, loving care for it to survive and thrive. Think of it as your baby. Always make sure your hands are washed, using natural soap, before you handle your SCOBY.
❏ DO NOT use metal containers or utensils to handle it, as metal will weaken it.
❏ DO temporarily store your SCOBY in a jar in your fridge.
❏ DO NOT use volatile oils in teas such as peppermint or earl grey, because it will damage your SCOBY.
❏ DO use a caffeinated tea for your SCOBY to thrive. You can use decaffeinated teas and it will grow, but not thrive.
❏ DO NOT allow tea leaves and other contaminants to enter your tea, as it may cause mold to grow.
Kombucha Culture vs Kombucha Tea – What's the Difference?
I know all these terms can be complicated, so let's be clear:
When we talk about Kombucha culture (the SCOBY), we're referring to the mushroom-like, gelatinous blob that grows on top of the tea (the liquid).
The amber to dark brown liquid (Kombucha tea) is consumed, while the Kombucha culture is used to continue producing more tea.
How to Make Kombucha Tea (and Save a Fortune!)
A bottle of commercial Kombucha tea can cost anywhere from $1-$4. If you love it as much as I do, it will end up costing you a small fortune to keep in stock. Much better to just make your own at home, because then you also know exactly what's in it.
Once you have a SCOBY or Kombucha culture, you can start making Kombucha tea. By continuing to increase the size of the jar you use, you can increase the amount of Kombucha you make, as the SCOBY will grow to the width of the jar or container. It will also get thicker and have "babies", which you can give away to friends if you wish.
Just like with any other food or drink, there are many ways to make Kombucha. So I'll share the basic recipe with you right here.
Here's How:
1. Boil about 2 gallons of filtered water in a large pot on the stovetop.
2. Add 2 tea-bags (black or green) and let it steep for 5 minutes.
3. Vigorously stir in 2 cups of organic sugar. (do not use honey or maple syrup here)
4. Allow the tea to cool to room temperature.
5. Transfer the tea to a glass jar (or glass drink dispenser).
6. Carefully place your SCOBY (and the liquid that came with it) on top of the tea.
7. Place a clean cloth over the opening of the jar and secure it with an elastic band.
8. Leave it to ferment in a cool, dry place, away from direct sunlight.
9. On day 5, remove the SCOBY (or "mother") from the "baby" which will have grown on top of the mother and put it aside. (Place in a glass container and store it in the refrigerator.)
10. On day 7, place the first batch in the refrigerator to cool completely.
11. Remove the thin film from the top of the slightly bubbly liquid. Do not stir.
12. Pour a glass and enjoy!
Expert Tip: Once your Kombucha culture is large enough, place it in a large glass beverage dispenser that has a pouring spout.
Understanding the Fermentation Process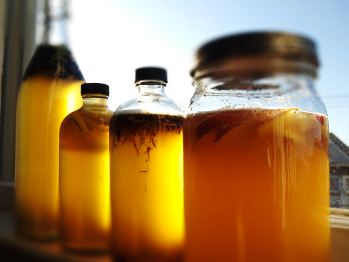 Placed in sweetened green or black tea, the culture will infuse your tea with life-giving nutrients, organic acids and probiotics. The SCOBY and the tea form a symbiotic partnership, with the bacteria taking care of the yeast while the yeast provides the culture with the food it needs to continue growing.
Microorganisms will take approximately seven days to produce the enzymes, which will change the nature of the drink. Sugar used in the tea will be converted into ethanol, and carbon dioxide will be released.
Alcohol that is formed during the fermentation process will be converted into acetic acid (vinegar). The tea's acid content continues to increase, stifling the growth of disease-causing microorganisms.
Beneficial bacteria will further work on the sugar, converting it into cellulose, which will help grow the large "mushroom" (Kombucha culture or SCOBY) and lead to the birth of a "baby" (culture/SCOBY), which you can use to make a new brew.
Together, the two symbiotic partners produce Kombucha tea, your elixir of life.
Expert Tip: Around day 5, use the SCOBY you have set aside to start your next batch.
Where To Buy Kombucha
Many food stores sell Kombucha cultures, however, it is generally better to get one from someone who brews their own Kombucha at home.
If you don't know someone who brews their own Kombucha, then, I recommend you buy this easy Kombucha tea starter kit.
Likewise, supermarkets and health stores sell ready-made Kombucha tea in bottles.
Expert Tip: Always be sure to buy it raw and organic.
Kombucha Tea Side Effects
When you look at online medical sites, you will find warnings about the safety of Kombucha tea. It is generally rated as "possibly unsafe" for people with weakened immune systems and pregnant women.
Why? Because, as is explained on the sites, it is hard to maintain a germ-free environment at home, which could result in fungal contamination. Then again, that could happen to pretty much anything we eat. For example, milk could be infected with bacteria.
It is important to understand that medical institutions must make statements like this to protect them legally. If they don't and a consumer dies from consuming an over-brewed batch, they can be sued for saying something is safe.
It is important to monitor the brewing process, and to use the tea in moderation. However, many people claim to be "addicted" to it, and apparently, kids absolutely love it.
Some of the common objections to drinking home-brewed (unregulated) Kombucha tea, include:
CLAIM: It is an alcoholic beverage which might lead to a drinking problem.
TRUTH: It contains 0.5% alcohol, which should pose no problem for most people.
CLAIM: Kombucha tea contains caffeine so it may cause diarrhea and other caffeine-related conditions.
TRUTH: If you make it from green or black tea, it will contain caffeine. You can either replace the green or black tea you drink on the average day with Kombucha, or you can brew your tea in decaf tea, such as rooibos.
Here's the deal: The Kombucha culture contains helpful bacteria, and it is important to follow hygienic preparation methods when you brew it. It will also take on the properties of your tea, so if for any reason you are intolerant of a certain tea, don't brew your Kombucha in that type of tea.
Kombucha Tea Recipes
Kombucha offers many variations, which is handy, especially if you want to give it to your kids. Let's look at some great Kombucha recipes.
Kombucha Soda
Adding fruit or fruit juice to your Kombucha can make it sweeter and carbonated – just the way kids like it.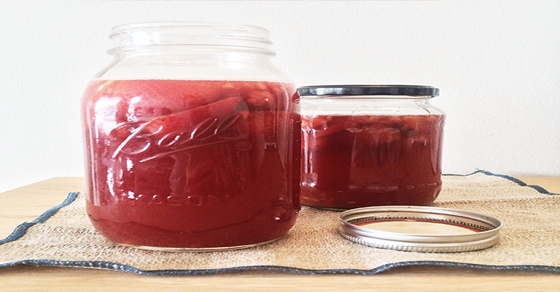 How to Make It:
1. Once your batch is ready, dispense the Kombucha into mason jars with plastic lids, or into glass bottles with a lever-down lid, such as EZ Cap beer bottles. Only fill about 4/5 of the bottle, leaving space for the add-ins.
2. Add your add-ins and cap the bottle tightly.
3. Leave the bottles out at room temperature for about 3 days to carbonate, checking frequently to ensure that pressure has not built up, as it could cause the jars to break.
4. Store carbonated Kombucha in the fridge until you are ready to drink it.
Awesome Add-Ins & Kombucha Combinations:
● vanilla pod and prunes (Tastes a bit like cream soda or Dr. Pepper)
● blue berries and minced ginger
● 1/2 tsp grated ginger and 1/2 an organic lemon (Tastes like Sprite!)
● mango
● 3-4 sliced fresh strawberries and a slice of lemon
● sliced pineapple, 1tsp. coconut extract and 3 tbps pineapple juice (Pina Colada!)
● 2-3 tbps of fresh apple juice, sliced organic apple, a cinnamon stick and 1/2 tsp ground cinnamon
● peach slices
Kombucha Vinaigrette
Use Kombucha to substitute vinegar in your favorite dressing.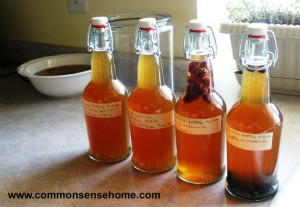 1/4 cup Kombucha
3/4 cup extra-virgin olive oil
1-2 tbps raw honey
Celtic sea salt and black pepper to taste
1 teaspoon dried Italian seasoning
Mix all ingredients and store it in a glass bottle with a stopper. Keep in the refrigerator and serve when needed.
Dairy Free Kombucha Waffles
Dairy-free, whole wheat and organic ingredients with an extra boost from Kombucha makes this a tasty and guilt-free indulgence the whole family will love.
3 1/2 cups white whole wheat flour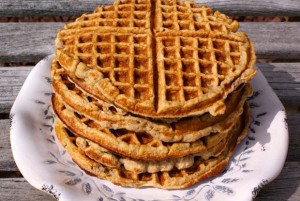 4 Tbsp organic whole cane sugar
2 Tbsp baking powder (aluminum free)
1/2 tsp sea salt
4 eggs, beaten (organic, pastured)
3 1/2 cups Kombucha
1 cup coconut oil, melted
2 tsp pure vanilla extract
Method
1. Heat up the waffle maker.
2. Add dry ingredients to a large glass mixing bowl and combine well, creating a well right in the middle.
3. Combine wet ingredients in a medium glass bowl and mix well.
4. Add the wet ingredients to the well in the dry ingredients, mixing until all the ingredients are well-incorporated. Allow the mixture to rest for a couple of minutes.
5. Make waffles according to the waffle maker's instructions.
Kombucha Gummies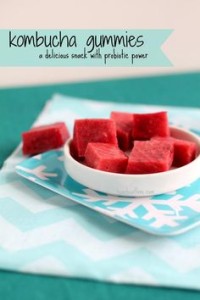 We all know that sweets are bad for kids, but you won't mind your children enjoying these tasty, healthy Kombucha gummies.
Ingredients
1 cup Kombucha
1 cup chopped strawberries
1/2 cup chopped mango
4 Tbsp quality gelatin (organic, grass fed)
Method
1. Set out your molds. If you don't have molds, you can use a greased baking tray.
2. Puree the fruit in a food processor until it is a puree.
3. Warm the Kombucha in a small pot over low heat. (Just enough to dissolve the gelatin, not enough to kill the probiotics!)
4. Whisk the gelatin into the Kombucha one tablespoon at a time. There may be foam, which you may skim off if you wish.
5. Whisk all the fruit puree into the mixture.
6. Fill the molds, and refrigerate the gummies for an hour or two.
7. Store the gummies tightly wrapped in the refrigerator. They will lose water as they sit, which will make them chewier.
Non-Traditional Uses of Kombucha
➔ Use it in your smoothies.
➔ Replace water with Kombucha in your jello.
➔ Add Kombucha to your laundry for a cleaner, odor-free wash.
➔ Kombucha is a great, natural pesticide.
➔ Use Kombucha to counteract hard water and add acidity to your soil when you water your plants.
➔ Instead of expensive organic fruit and vegetable wash, rinse your produce in Kombucha.
➔ Add a few drops of tea tree oil to Kombucha for a low-cost, yet effective household cleaner.
There you have it, a complete guide on the drink that offers infinite possibilities for your health, home and life. Have you used Kombucha? I'd love to hear your stories and try out your recipes. Please leave your experiences with Kombucha in comments below.