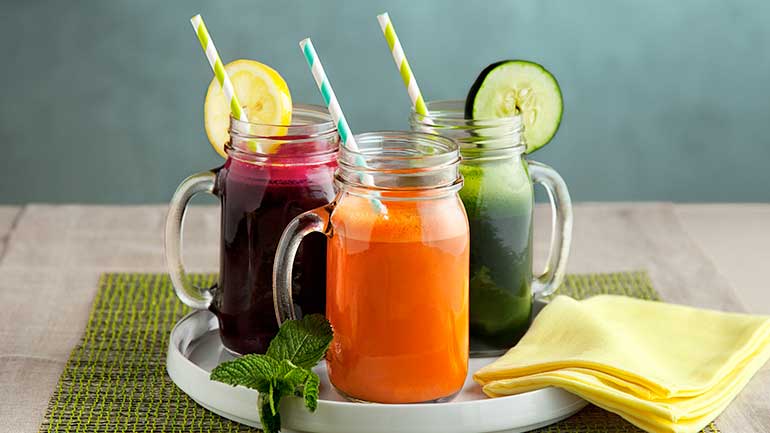 Last updated: August 25th 2017
Why are so many people joining the juicing revolution? I'm about to let you in on the little secret to juicing. Everyone assumes that juice must be healthy – sure -, but there must be more to it, right? Yes, there is… it's the enzymes that are so abundant in raw fruits, vegetables and leafy greens. Research has shown that enzymes play a key role in preventing and healing chronic disease and increasing longevity.
Why Do We Need Enzymes?
Our bodies need enzymes to break food down into the nutrients we need to thrive. Your liver, kidneys, pancreas, spleen, blood stream, digestive tract, and immune system rely on enzymes to perform at optimum levels, as every other chemical process in your body.
However, our bodies' enzyme production slows down with age. Of course, the Standard American Diet with its packaged, canned, processed, genetically modified and microwaved food does nothing to stimulate digestion. When food is heated to 115 degrees, enzymes are destroyed.
Scientists first recognized the crucial role of enzymes in raw food more than seventy years ago. More recently, studies found that low enzyme levels in their blood could cause people to have low energy levels and be more prone to chronic diseases.
Low enzyme levels will manifest gradually, typically starting with a loss of stamina and vitality. With time, they will notice slow recovery from injuries, and have difficulty digesting food. They will then start to age rapidly, a condition which some researchers attribute fully to a lack of enzymes.
Did You Know? Bad lifestyle habits, poor dietary choices and environmental pollution are the major contributors to enzyme deficiency.
How Juicing Can Promote Healthy Enzyme Levels
In addition to be packed with nutrition, juice made from dark leafy greens, fruits and vegetables can provide you with the enzymes your body needs to function at optimum levels.
In order to acquire the full enzyme benefit from eating fruit and vegetables, each mouthful should be chewed a minimum of thirty times, which most people fail to do. Therefore, fresh organic juicing is key to making the most of the enzymes in your food.
Cooked food always takes longer than raw food to digest and enzymes must make physical contact with your food to break it down into small particles that can easily pass into the small intestine and utilized by your cells.
For Your Information: Of course, juicing does not mean that you have to eat all your meals raw or juiced. Instead, juicing provides supplementary benefits to help build your enzyme stores and to fight aging and degenerative conditions.
Fresh juice contains a high concentration of enzymes to repair cells and nourish the body. Instead of spending all day preparing fresh salads and snacks, chewing each mouthful thirty to fifty times, an easily prepared glassful of fresh juice provides instant enzyme benefits that will be noticeable in a matter of weeks.
How it Helped Me: Juicing helped to detox my liver and resolve my constant acne eruptions. It also let my digestive system rest and repair, playing a key role in healing my colon from leaky gut. I still have a green juice every morning… Love the way it makes me feel alive!  
Expert Tip: Cooked foods should always be supplemented with enzymes. Sprinkle the contents of an enzyme capsule over cooked food to further promote digestion. You could also take the capsules with water half an hour before meals.
Home Juicing – The Ultimate Liquid Lunch
The alcoholic liquid lunches of old take on a fresh new look as more people take up home juicing.
A growing number of health food stores and juice bars now prepare fresh, pre-made and made-to-order juices to cater to the thriving wellness industry. However, the trendy niche has a drawback. Priced at $7.95-$10 per bottle, not everyone can afford to buy a juice daily. You could opt for a cleanse, lasting three to ten days, but honestly speaking, we all need freshly pressed juice on an ongoing basis to truly benefit. After all, we are exposed to toxins all the time.
Home juicing also provides assurance that your juice is organic. While some juice bars use glass bottles, many use plastic, which may not be the best choice for your health or for our environment.
With juicing becoming increasingly more popular, appliance manufacturers are constantly striving to design innovative new blenders and juicers with the objective to make juicing simpler and more affordable. Home juicing is a great way to:
save money (You no longer have to buy juice!)
enjoy fruit and vegetables
save time (easy to prepare, easy to clean)
look and feel great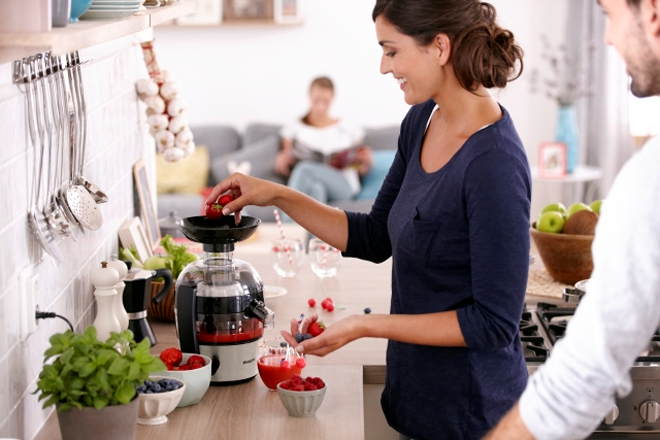 Important Note:  While juicing is a wonderful way to consume fresh produce, it's still good to eat fresh whole fruits and vegetables.
Juicing vs. Blending
I believe that juicing is the way to go if you want to consume the highest amount of nutrients from fresh plant foods. Let's look at the different ways of extracting juice from your fresh produce.
Since both juicing and blending serve a purpose, personal preference will determine whether to buy a blender, a juicer, or both.
Blending advocates believe that it is important to keep the fiber in the juice, while juicers feel that extracting fiber promotes healthier digestion. Both statements have merit, which is why the choice is up to you. Here are the main differences:

Blending: If you feel you don't get enough fiber, blending can help slow the absorption of sugars and nutrients that enter your bloodstream. Consider occasionally blending smoothies to replace meals, as it will provide a feeling of fullness.
Juicing:  This method is best if your digestive system is weak or if you have nutritional deficiencies (most people have insufficiencies without realizing it). Since the process extracts fiber from your food, nutrients are more easily absorbed. Therefore, juicing makes the nutrients more bio-available. Additionally, juicing makes it easier to consume large volumes of fresh produce, that you'd never be able to eat all in one day.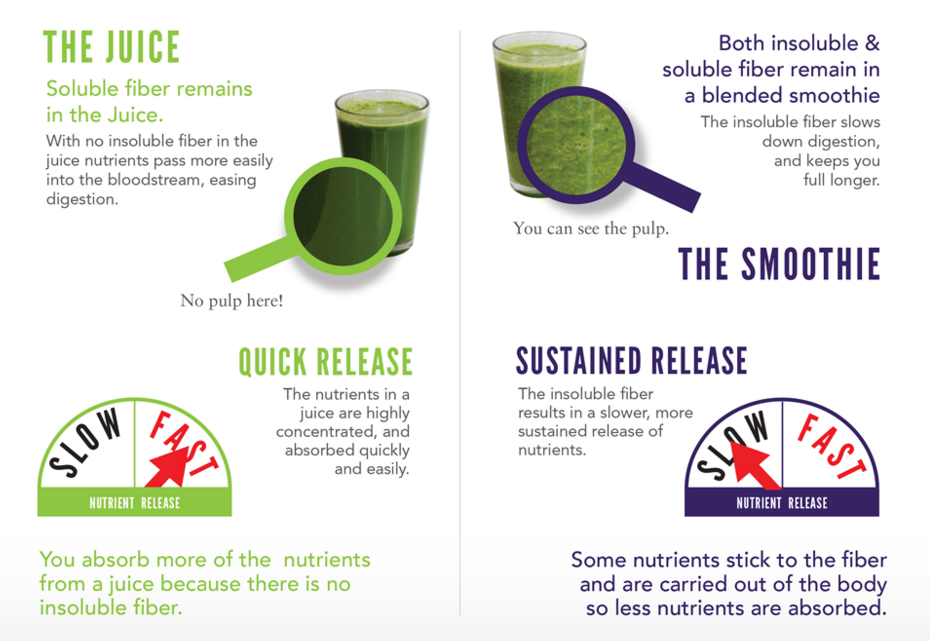 Expert Tip:  A juice extractor separates the juice from the pulp. Instead of throwing away your pulp, use it in recipes or as a composting material.
It doesn't matter whether you juice or blend, as long as you do one or the other, or preferably both. Having both a juicer and a blender is a win, as you can decide from day to day whether you want a thick smoothie or a thin juice.
Why Juicing is a Must
We now know that juicing is a marvelous way to optimize our enzyme levels, but what does that really do for your body?
Juicing promotes your consumption of the required daily amounts of vegetables and fruits. Dark leafy greens in juice contain high levels of chlorophyll to oxygenate your cells and to promote detoxification.  In addition, the magnesium provided by the greens will help your body to better utilize calcium. Long term juicing will result in:
improving dietary choices
removing toxins from the body
boosting immune functions
cleansing your liver, lungs, kidneys and digestive system
assisting in the repair of organs
promoting proper circulation
reducing and eliminating disease and the need for medication
decreasing depression and enhancing emotional balance
improving mental clarity
increasing physical energy
strengthening bones, nails and hair
supporting weight loss
and much more
Plants absorb light energy from the sun, which is converted into sugar through a process known as photosynthesis. Living creatures rely on plants to provide the energy they need. Juicing not only provides vital energy, but it will leave you feeling fresh, light and healthy.
Just because a juice is green does not mean it has to taste like weeds. Read on and you will see just how delicious green juices can be.
Your Juicing Questions Answered
If you're new to juicing, you probably have lots of questions. I will endeavor to answer them here.
Q:  Where do I start?
A:  Congratulations on deciding to start juicing and making a commitment to your health. Keep reading and you'll find some great new recipes to try. I highly recommend that you give up alcohol and smoking a few days before you start juicing and that you try a 3-day detox cleanse. This alleviate burdens on the body and allows major organs and systems to clean out toxins, even at a cellular level.
Q:  Do I have to juice daily to enjoy the health benefits?
A:  Daily juicing is a great way to consume the required nutrients and to combat the daily assault of pollution on our body. I look forward to my green juice every morning!
Q: Can I pre-press juice for a few days at a time?
A: Ideally, you should consume your juice immediately, as it oxidizes quickly, which will decrease the nutrient levels. (Think of how an apple starts to brown when you cut it, because it's oxidizing.) However, if you have to store it, use an airtight glass container and refrigerate it right away. You'll want to fill the container to the very top (to where it runs over a bit) and then put the lid on. This method insures the least amount of oxygen exposure possible. If you need to store juice for longer periods of time, invest in a cold hydraulic juice press like this, which will retain the nutrition for 72 hours.
Q: Do I have to peel my fresh produce?
A:  Not if it's organic. However, make sure that you peel non-organic fruit and vegetables and always wash and scrub your produce thoroughly.
Q:  Must I leave the seeds in my apples?
A:  Apple seeds contain trace amounts of cyanide, which the body can easily detoxify. It's up to you.
Q: Can I only drink juice during a cleanse, even if I'm hungry?
A:  A juice cleanse gives your digestive system a rest, but you should listen to your body. If you want to enjoy the full juicing effect, stick with juice only; however, if you're struggling, add light soups and salads to the mix.
Q: How long should a cleanse last?
A: As a first timer, your cleanse should be no longer than three days. If you're doing it a second time, go for 5-7 days. You may even consider a longer cleanse if you're trying to lose weight or reduce your dependency on medications. Speak to your health practitioner first.
Q: Where will I get protein from if I juice?
A:  Contrary to popular belief, many vegetables are rich in lean protein. Think about chia seeds, hemp, sprouts, broccoli, collard greens, turnip greens, carrots, romaine lettuce, kale and spinach, for example. These sources will provide you with abundant healthy protein. Think about it… Where does an elephant (the largest land mammal) get it's protein? … from plants!
Q: Must I drink juice on an empty stomach?
A:  Ideally, yes. This will allow the nutrients to be injected straight into your bloodstream. Wait twenty minutes before you eat food.
Q: Do I use a blender or a juicer?
A:  It's up to you. A blender leaves a thicker texture –  which is great for smoothies. If you're planning on following a cleansing program, you'll want to use a juicer.
Q: I prefer fruit to greens. Can I use more fruit?
A: Fruits have a higher sugar content, so you should use it in moderation. Improve the taste of your green smoothie by adding mint, lemon or ginger. Don't worry, after a couple of days your palate will adjust.
Q: I'm diabetic and taking medication. Should I not use any fruit?
A: This question is best answered by your health practitioner. Whatever you do, keep up your water consumption and add lots of greens.
Q: Will juicing help me lose weight?
A: It depends how much weight you carry and the length of the cleanse. Most people lose weight during a cleansing program. You will lose water weight first. Remember, toxins like to store themselves in fat, so you must discard the toxins first, before your body will let go of excess weight.
Q: How will my bathroom habits change from juicing?
A:  You will visit the bathroom more frequently, and you may notice color changes in your bowel movements and urine. This is normal.
Q: Should I avoid tea while I'm on a juice cleanse?
A: You can drink tea, unless it contains caffeine. Herbal teas, like chamomile, are great.
Q: Can I still exercise during my cleanse?
A:  Light exercise is usually fine. Try stretching, Pilates or a light walk.
Q: Should I supplement while I'm juicing?
A: Most people are low on vitamins B and D, but you can ask your health practitioner to test your blood. Daily juicing will supply a large amount of nutrients, so don't overload your system with supplements. Overall, it's best to get those nutrients from organic, whole foods when possible.
Q: Should I drink the same juice daily?
A:  You can, but variety is best for you. Switch it up to ensure that you get the widest range of nutrients.
Q: How much juice can I drink a day?
A:  If you're drinking juice on a regular daily basis, drink 3-4 average glasses a day. Juice should be consumed before meals or between meals; but never with meals, as it is more readily digested when consumed alone. During a cleanse (since the juices are your meals) you can drink six to eight large servings a day.
Q: How long will it take to make a juice?
A:  This depends on the type of juicer, but it takes approximately 15 minutes to prepare your vegetables, press the juice and clean up.
Q: I can't find leafy greens in winter. What should I do?
A:  Green powders are a great alternative to fresh greens. Try spirulina or blue-green algae, or both. Juice your veggies then add powders to your glass & stir. I use this green powder in my smoothie, but also works with juices. *Be careful to buy high quality powders from trustworthy companies; if not sourced well, they can contain high amounts of heavy metals.
Did You Know? Too much of a good thing is not always good. Excess protein consumption can put strain on your vital organs. This is especially true for you pancreas, which produces certain pancreatic enzymes to help digest proteins. A daily green juice as part of a balanced diet can provide you with sufficient protein to lead a physically active lifestyle.
Blenders & Juicers
Buying a quality juicer or blender is an important investment in your health. However, deciding which equipment is best, can be confusing.
Older, less expensive juicers can be hard to clean and don't produce the best quality juice, however, the information below should make it easier to make your choice.
Types of Juicers
Masticating/Single Gear/Single Auger Juicers:  This type of juicer comes in a vertical or horizontal option. It works by using a single auger to crush the produce into the walls (or screen) of the juicer, and in the process, extracts the juice.  It runs at a slow speed, so there is little oxidation. The slow squeezing of the auger squeezes every last bit of fluid and nutrients out of your pulp. *Keep this in mind if you are spending extra money on more expensive organic produce.
Cold Press Hydraulic Juicers:  These need the produce to first be ground (masticated), then it presses the mixture. The crushing and pressing process helps extract juice, and also offers the highest yield. Since a masticating juicer produces very little heat, oxidizing is low and nutrients are kept intact. (Ex. The Norwalk does both steps; or you if you choose a masticating juicer… you can buy a separate press.)
Centrifugal Juicers: A centrifugal juicer features a fast-spinning metal blade. Juice is separated from the flesh by a mesh filter and centrifugal force. Due to the friction and extremely high speed, some nutrients may be destroyed. These juicers also take slightly longer to clean due to the filter screen.
Triturating (Twin-Gear) Juicers (Cold Press Slow Juicer): This juicer uses interlocking twin gears. It moves slowly, allowing more juice and high quality nutrients to be extracted. It produces more juice than other juicers, but it does require more cutting and chopping.
It pays to invest in a quality juicer, rather than the cheapest one you can find. However, if you already have an inexpensive juicer in your home, that is a good place to start. Here are some good quality juicers that make juicing and cleaning up as easy as possible:
2 step process, masticating & hydraulic cold press
Produces up to 100% more juice than centrifugal juicers
High quality juice
Good for fruits, veggies, leafy greens
Twin gear (triturating) impeller press with two-stage processing system
86 rpm (ideal speed)
Great for fruit, veg, wheatgrass, leafy greens, sprouts, herbs and barley grass.
Vertical low-speed auger (masticating)
Large feed tube
Prevents unwanted oxidation
Sorbet attachment
Easy to clean and assemble
Great for all fruits/veggies, even leafy greens and citrus
Masticating juicer
Juices anything
80 rpms
High juice yield
Auto pulp ejection
Dual stage juicing system
15 year warranty
Multifunctional
Masticating juicer
Heavy duty
Dual stage vertical model, single auger
Low speed juicing prevents oxidation
Superb yield
Great for wheatgrass
Easy cleanup
15-year warranty
Centrifugal 1000-watt juicer
2 speed controls
3-inch feed tube
Pulp container
Easy to clean
Good yield, but adds a lot of air/foam to the juice
Cons: Because of the speed of the blade, Centrifugal juicers expose the juice to heat & oxygen, which kills the vital healing enzymes in the juice.
Centrifugal dual disk juicer
Added puree disk attachment
1200-watt motor
3-inch feed tube
Good yield, but adds a lot of air/foam to the juice
Cons: Because of the speed of the blade, Centrifugal juicers expose the juice to heat & oxygen, which kills the vital healing enzymes in the juice
Masticating juicer
Slow juicer to retain nutrients
Energy efficient
Good for nut milks, marinades, baby food, sauces and ice cream
It's a good idea to research juicers before you buy. Read all the reviews and buy from a reputable source. Ask about warranties, some companies have different coverage terms for the motor, parts, etc.
Choosing a Blender
Much like juicers, blenders range in quality, features and price. If you prefer a smooth liquid consistency with no large particles or lumps, buy a high-powered blender. If you opt for a blender over a juicer, you can always put your liquid through the nut milk bag or a strainer to achieve a smoother consistency. Smooth juice is much more beneficial during a juice cleanse, as it gives your digestive system an opportunity to rest and for the body to easily absorb the nutrients.
The most important consideration when buying a blender, is the purpose for which you are buying it. Some blenders have great features to make amazing smoothies, while others are more suitable for making baby foods, soups, nut butters or flour.
Here are some of the best blenders on the market for juicing:
-High-powered commercial quality
-So Many uses (smoothies, sauces, soups, sorbets, etc.)
-Self-cleaning, Durable
-Gives a wonderfully, smooth texture (even when blending leafy greens)
-7-10-year warranty (depending on model)
-A class all on their own!
-High-powered commercial quality
-Multi-function
-Wide range of options
-Gives a wonderfully, smooth texture (even when blending leafy greens)
-Produces great texture
-Many styles and prices
-KitchenAid Diamond Vortex 5-speed blender KSB1575
-It liquefies, purees, chops and stirs
-Cheaper option, but doesn't give the same quality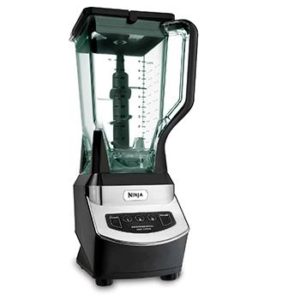 -Variety of options
-Better than low-end blenders
-Easy to cut yourself when cleaning
-Cheaper option, but doesn't blend leafy greens well (not even soft ones, like spinach… leaves pieces)
-2-speed
-5-cup glass pitcher
-600-watt machine
-Variety of models
-Low to medium-range pricing
-Blender and food processor combinations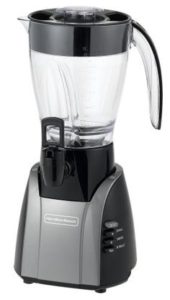 -48-ounce glass jar
-750-watt power
-3-year warranty
-Compact design
-Great for travel
-Not good for medium to hard produce or leafy greens (spinach is okay)
Juicing Produce: Choose Organic
Conventional commercial farmers only grow a small variety of profitable crops which can be produced cheaply. However, it has caused a major decline in the variety of fresh produce available in the United States.
In order for produce to contain a good amount of nutrients, the soil in which the crops grow should be rotated. However, commercial farmers are profit-centered, and less concerned about nutrients. Additionally, they follow the FDA's guidelines (or lack thereof) regarding pesticide and herbicide use. However, if you look beneath the surface, you'll see that the Food and Drug Administration (FDA) has ties with major drug and food companies that cause them to make decisions based on profit, which are not in the public's best interests.
The Environmental Working Group (EWG) has been a strong advocate in the area of corporate accountability, agricultural subsidies and toxic chemicals for around two decades. The group informs consumers of issues relating to public health.
Commercial crops are routinely sprayed with herbicides, insecticides and chemicals to control pests and weeds. This has led to a deluge of health scares, including allergies, asthma, skin rashes, nausea and vomiting, depression, heart irregularities, headaches and migraines and even seizures. Recently, Monosodium Glutamate (MSG) has been sprayed on crops as a preservative. These toxins often have dramatic, harmful effects on our bodies.
Soils have become toxic, as they contain petroleum, pesticides and chemicals. Genetically modified organism (GMO) foods are planted in the contaminated soil, which leaches toxins into the plants. This is harmful to our health and should never be consumed.
Now, more than ever before, it is crucial to use organics not only for juicing, but for all your foods. Since juicers extract everything from the product, it is important to use only 100% certified organic produce.
According to the EWG, there are 10 foods that must always be bought organic: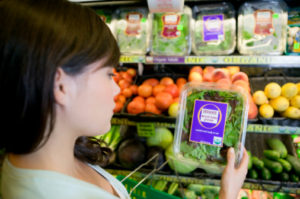 kale / collard greens
spinach
potatoes
hot peppers
imported snap peas
cherry tomatoes
cucumbers
celery
imported nectarines
sweet bell peppers
peaches
strawberries
grapes
**All thin skin fruits, all greens and all root vegetables should also be included.
It is usually ideal to shop at farmers' markets, as the produce is typically local, organic and fresh. Buying local is better, because the food is picked ripe; it contains a higher concentration of nutrients and no preservatives. Rather than if it was picked 3 weeks ago, then loaded onto a truck, and shelved in a warehouse. As an added bonus, it will taste better… really there's no comparison! Also, small local farmers tend to use less (or no) pesticide and herbicide sprays.
Did You Know? Dr. Linus Pauling, two-time Nobel Prize winner said that most ailments, illnesses and diseases can be attributed to commercial farming procedures that led to mineral deficiencies in the soil.
Processed, refined foods lose 90% of their nutritional value. These shouldn't even be allowed to be called "food"; we'll refer to them as "food-like product". Certified organic produce, on the other hand, is declared free of any prohibited chemicals for three years prior to being harvested. Also, organic farmers practice water and soil conservation practices and make use of renewable resources.
Safeguard yourself and your family from short and long-term health risks – buy organic (and local!). This is how we ensure that he good farmers will survive… by voting with our dollars every week.
Learning to Read Produce Bar Codes for Your Juicing Needs
In addition to serve as a handy price sticker on your food, bar codes provide important information regarding your produce. It tells you how and where your produce was grown and whether it is genetically modified.
PLU (Price Look-Up) codes are the last 4 digits on the bar code sticker. All items are given a unique PLU code.
PLU containing 4 digits: This product was grown on a farm that uses pesticides.
PLU containing 5 numbers, starting with 8: This produce is genetically modified.
PLU starting with 9: This produce is organically grown and non-GMO.
GMO labeling laws are in force in many countries, and much of the food is imported into the US.  Countries that have banned or restricted the import, distribution, sale, use and planting of GMOs include Algeria, Brazil, China, Egypt, Germany, Japan, New Zealand, Peru, the United Kingdom, and some countries of the European Union. EAN countries use a EAN-13 barcode system of which you can find the meanings online.
To help you know the location of where your food is sourced, here are some bar codes used by countries that commonly supply American markets:
FIRST DIGITS IN BARCODE

00-09

COUNTRY OF ORIGIN

U.S. and Canada

930-939
Australia
740-745
Central America
690-692
China
30-37
France
40-44
Germany
489
Hong Kong
890
India
899
Indonesia
49
Japan
955
Malaysia
480
Philippines
880
South Korea
471
Taiwan
885
Thailand
50
UK
888
Vietnam
Juicing: How to prepare your fruits and vegetables
Always prevent food-borne illnesses by washing your produce before juicing it. You don't need to peel your organic produce, but always wash peel sprayed or waxed fruits and vegetables.
To wash your produce, simply soak it in a dilution of 2 tablespoons of apple cider vinegar (ACV) per quart of water for 10 minutes. Rinse, and soak it again in clean cold water for a further two minutes.
Place fragile fruit such as blackberries, raspberries and strawberries in a strainer and spray it clean using filtered water.
Spinach and lettuce may be marked pre washed or triple washed, but it is a good idea to wash it again, since it is usually packed in plastic bags or containers which leach chemicals into your produce.
Expert Tip: Never wash your produce with soap or detergent! Also, avoid store-bought "veggie wash"… it contains additional chemicals and/or preservatives.
Storing your fruit & vegetables
Take a minute to wrap your vegetables in paper towels before storing them in the refrigerator. The paper will absorb moisture, keeping your produce crisp and dry. You can place the wrapped produce in a sealed container.
Never wash your produce unless you plan on using it in the next two to three days. If you plan to use fruit within the week, you can leave it out of the refrigerator (unless it's really ripe – the cold slows ripening). Unripe fruits should be left out of the refrigerator to ripen naturally – warm temperatures speed ripening.
Store unwashed berries in the refrigerator by laying them loosely in a paper towel lined container.
Avoid using old, yellowed greens (these have deficient nutrients).
Cut bruises off pears and apples before juicing.
Expert Tip: If your bananas are spotted, break them into smaller chunks and freeze them. Frozen bananas are delightful in smoothies. A great way to not waste food!
A large, green blended smoothie will give you more than 12 grams of fiber. Green juice or smoothies provide plenty of nutrition and fiber, but it may leave you bloated if you combine the wrong foods, or if your body is trying to adjust to new ingredients.
If you experience this, it may be a good idea to eliminate one ingredient at a time in order to learn what works for you, so that you can learn which combinations suit your digestive system best.
Combining Fruits & Vegetables
As you learn more about juicing, you will come across contradicting information about mixing vegetables and fruits. The only exception with which most experts agree, is that apples work well with other foods.
This thought process stems from food-combining principles. Vegetables and fruits have different digesting times and also require different stomach acids. By mixing the two, it may cause gas or fermentation. When undigested food sits in the stomach, it can lead to a lack of stomach acid.
Some believe that by juicing only vegetables together (eg. cucumber, celery, leafy greens, and non-starchy vegetables), the foods are neutralized to balance stomach acid.
Basic food combining principles to aid with absorption and digestion:
Melons should always be eaten alone (cantaloupe, honeydew, watermelon, etc.)
Thinner, watery drinks and foods digest very quickly. If you eat them directly after solid food, they will ferment in the stomach because the other food is in their way.
Juices should be consumed first, before solid foods (wait 30 min. or more, before eating after your juice)
If having a juice and a smoothie, drink the juice first & then wait 30 min. before having the smoothie.
If having a smoothie and solid food, drink the smoothie first & then wait 45 min. to an hour before eating the solid food.
I do put a lot of weight in the food combining guidelines, and I personally follow them daily. However, since juicing separates the fiber, which allows easy assimilation of nutrients… I believe the rules change slightly for juicing.
Some food advocates feel that blending is the most effective method for consuming a variety of fresh produce. It keeps the fruit whole and the fiber intact. The particles remaining in blended smoothies allow people to chew their drinks, and this aids digestion and a feeling of fullness. Both juicing and blending are beneficial and each have their purpose, it just depends on what your current goals are.
Vegetable Combinations
Most vegetables can be combined, and it's best to combine protein and starch.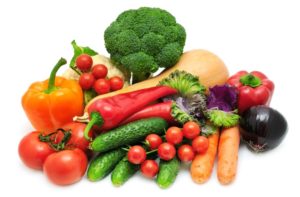 Mildly Starchy Vegetables
beets
carrots
sweet potatoes
peas
Non-Starchy Vegetables
beet greens
bok choy
broccoli
brussels sprouts
cabbage
celery
chard
collards
cucumber
dandelion
endive
escarole
fennel
garlic
kale
kohlrabi
lettuce
parsley
radishes
spinach
sprouts
yellow squash
sweet peppers
swiss chard
watercress
zucchini
Fruit Combinations
Apart from melons, most fruits can be combined. Ideally, melons should be eaten alone an hour before you eat other foods. The reason for this is that melons digest quickly.
Ideally, acidic fruits (pineapples, tangerines, grapefruits, oranges) should not be combined with sweet fruits (grapes, papaya, bananas, prunes, figs, raisins, dates), as it may lead to fermentation, which will cause gas.
Sub-acid fruits that combine well with both acidic and sweet fruits include:
pears
plums
peaches
mangoes
kiwis
cherries
blackberries
apples
apricots
Colorful Benefits of Fruits & Vegetables
Western science agrees with Eastern wisdom that a variety of colorful fruits and vegetables combat disease, for a healthier, longer life. Here's a look at what the colors mean…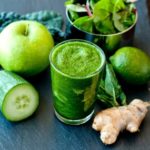 Green – Packed with chlorophyll, greens create red blood cells, while stimulating circulation and boosting detoxification.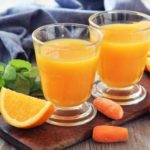 Orange – Rich in beta-carotene, orange produce boost the immune system while at the same time reducing the risk of heart disease and cancer.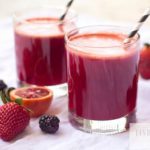 Red – Reds are rich in antioxidants, flavonoids, anthocyanins and lycopene to reduce the risk of certain cancers by up to 60% and improve heart health at the same time.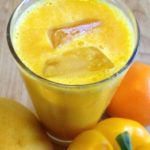 Yellow – Rich in flavonoids and vitamin C, yellows fight free radicals and virtually all cancers and boost the immune system.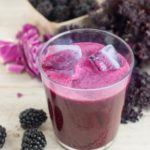 Purple – Packed with antioxidants, anthocyanins and phytochemicals, purple fruit and veg fight aging and cancer-fighting properties.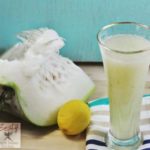 White – Rich in potassium and phytochemicals, white produce such as garlic and onions contain allicin, which has antioxidant and antimicrobial properties.
 ABC of Fruit & Vegetable Benefits
Apples
Natural sweetener

Low GI (Glycemic Index)

Control insulin levels

Vitamin A & C

Phosphorous, iron, calcium and flavonoids

Bananas
Balance mood swings

Vitamin B & C

Potassium and magnesium

High in natural digestible sugar

Beets
Vitamin A,B & C +B2

Iron, calcium, potassium

Build red blood cells

Bell Peppers
High amounts of vitamins A and C

Red has lycopene + 9 times more carotene, and 2 times more vitamin C (than green/yellow)

Red and green peppers have high levels of para-coumaric acid

High in fiber

Berries
Crammed with antioxidants

Can help lower blood pressure and cholesterol

Anti-inflammatory

Aid joint flexibility

Blackberries, blueberries and strawberries are potent superfoods

Broccoli
Cholesterol-lowering benefits

Boosts detoxification

Balances metabolism

Vitamin D, C, B9, K and A

Immune system booster

Cabbage
One of the top healthy foods

High in sulfur (for blood purification)

Cholesterol-lowering benefits

Calcium, magnesium, phosphorous, potassium

Vitamins A, C, E, K and folate

Antibacterial, anti-inflammatory and antioxidant properties

Carrots
52 calories in a cup-sized amount

Good source of vitamins A, K and fiber

Anti-aging benefits

Reduce risk of certain cancers

Celery
Lowers cholesterol and high blood pressure

High concentration of flavonoids

Vitamins K, C and A

Folate, choline, magnesium, iron, potassium and calcium

Cherries
Combat post-workout pain

High in melatonin and antioxidants

Ease arthritis pain

Fight cancer

Lower blood pressure

Reduce inflammation linked to diabetes and heart disease

Lower cholesterol

Reduce belly fat

Aid stroke prevention

Chard
Nutritional powerhouse

Vitamins A, C, K

Magnesium, iron, potassium

Fiber

Low in calories

Cucumbers

Economical as it provides the most liquid

Vitamin A for gastrointestinal, urinary and respiratory health

Calcium

Grapes
Potassium, selenium, magnesium, folate, phosphorous, iron and calcium

Rich in flavonoids

Help lower blood pressure

Always buy organic!

Grapefruit
Vitamins A, B1, B5, C, fiber and potassium

Low calories

Red and pink grapefruit contain lycopene

Antioxidant activity

Kale
More vitamin C than oranges

Higher in vitamin A than other greens

More calcium per calorie than milk

More iron than beef

Low in calories, high in fiber

Vitamin K to fight degenerative disease

Cancer fighting properties

Lowers cholesterol

Antioxidant, anti-inflammatory

Lemons
Antiviral, antibacterial and immune boosting

Vitamin C, limonene magnesium, pectin, and bioflavonoids

Boost immune system, alkalize the body

Limes

Help women's health

Calcium and folate

More vitamin C than lemons

Mangoes
Antioxidant rich

Fight cancer

High in vitamin A, C and carotenoids

Support immune system

Melons
Regulate heartbeat and control blood pressure

Abundant in vitamin C

Antioxidant

Rich in potassium

Low in calories

Oranges
Rich in vitamin A and C

Citrus limonoids and carotenoids

High fiber, low cholesterol

Polyphenols protect against viral infections

Low GI

Papayas
Help digestion

Rich in vitamin B, C, carotene, flavonoids, folate, potassium, magnesium, copper and pantothenic acid

Cardiovascular benefits

Immune booster

Anti-inflammatory

Help age-related cardiovascular degeneration, osteoarthritis and joint health

Pears
Great source of vitamins C, K and several B vitamins

Calcium, magnesium, copper, boron and potassium

Anti-inflammatory properties

Protect against cancer, heart disease and type 2 diabetes

Easily digestible

Hypoallergenic

Low in acid

May help prevent osteoporosis

Pineapples
Contain bromelain – an anti-inflammatory digestive enzyme

Promotes good digestion by breaking down proteins

Vitamin C to build collagen

1 cup contains 21% RDA of folate,  19% of vitamin B6, 7% of potassium RDA

Lowers blood pressure

Contain lots of potassium

Radishes
Good for the stomach and liver

Purify blood and eliminate toxins that destroy red blood cells

Cure inflammation

Clean the kidneys

High in vitamins A, B and C.

High in potassium and magnesium

Heal mucous membranes

Reduce cardiovascular disease

Anti-cancer and anti-inflammatory effects

Packed with antioxidants

Romaine Lettuce
Packed with vitamins A, C, K and a range of B vitamins

Contains omega 3s, folate, fiber, manganese, iron, potassium, magnesium, calcium, copperb phosphorus, folic acid, beta carotene, potassium and fiber

Good for the heart and lowering blood pressure

Spinach
High in fiber

Produces energy

Boosts brain power

Loaded with phytonutrients

29 calories per cup

Contains vitamins A, C, E, and K

Rich in iron, calcium, phosphorous, potassium

Rich source of lutein and zeaxanthin

Tomatoes

Rich in antioxidants

Control cholesterol

Flavonoids protect from free radicals

Contain lycopene

Rich in vitamin A, potassium, B-complex vitamins, thiamin, niacin, riboflavin, folate, trace elements, manganese, and iron

Watercress
Contains A, B1, B2, B6, C, E, and K

Rich in copper, calcium, folic acid, magnesium, manganese, and potassium

Contains fiber, carotenoids and antioxidants

Reduces DNA damage

Boosts immune system, blood health and memory

Watermelon
High water content – very hydrating

Rind contains many nutrients

Lycopene for heart and bone health

Contains vitamin A and C, beta carotene, potassium, magnesium, amino acids, flavonoids, carotenoids, and flavonoids

Can help reduce cancer risks

Seeds contain iron, protein and zinc
Medicinal Properties of Herbs & Spices
Enhance the flavor of any juice or smoothie by adding the powerful medicinal properties of herbs and spices to the mix. Use herbs and spices in powder form or fresh and take up the nutritional benefits of your drink significantly.
Basil
Rich in antioxidants

Soothes digestive system

Useful for treating IBS, arthritis

Reduces swelling

Fights ageing

Cayenne Pepper
Detoxifier

Stimulates circulation

Neutralizes acidity

Increases enzyme production

Good for cholesterol and mild high blood pressure

Cinnamon
A healing spice

Enhances blood sugar control

Antibacterial, anti-inflammatory and antioxidant

Garlic
Antifungal and antibacterial

Can reduce risk of atherosclerosis

High levels of iodine – good for hyperthyroid

Ginger
Soothes gastrointestinal disorders

Antioxidant and anti-inflammatory

Prevents motion sickness

Relieves dizziness, nausea and vomiting, even in pregnancy

Mint
Rich in vitamin C and carotene

Contains copper, calcium, iron, magnesium, potassium

Aids heartburn and indigestion

Parsley
Healing properties

Activates enzymes

Contains vitamins A, C, and K and B-vitamins

Contains calcium, iron, magnesium, potassium and phosphorus

Potent diuretic

Rosemary
Improves memory

Boosts circulatory system and immune system

Alleviates muscle pain

Rich in anti-inflammatory compounds and antioxidants

Turmeric
High antioxidant protection against free radicals

Boosts immune system

May prevent and even reverse gallbladder disease, diabetes, stroke, depression, Alzheimer's and psoriasis

Can slow the ageing process

Anti-inflammatory effects may relieve carpal tunnel syndrome and arthritis
Superfoods for a Supercharged Juice or Smoothie
Superfoods are known for their high concentration of potent nutrients. Most superfoods are plant based, and can be added to smoothies, juices and even shakes.
Acai

Pronounced ah-SIGH-ee

Very high levels of antioxidants

Contains oleic acid (good fat in olive oil)

Buy frozen, unsweetened or powdered acai

Aloe Vera

Heals many ailments and conditions, including yeast infections, vaginal irritations, prostate issues, burns, and lesions.

Boost skin health and relieves irritable bowel syndrome (IBS)

Antiseptic properties help healing

Buy in gel, juice or fresh plant form

Blackstrap Molasses
Quick iron replenisher

Quick carbohydrate assimilator

Restorative blood tonic for cancer patients

Fights fatigue, depression, nausea and hair loss

Blue-Green Algae
Not really an algae, but a plant found in lakes and ponds

Includes spirulina

Contains vitamins A, B1, B6, C, E, as well as folate, iron, thiamin and riboflavin

Boosts immune system

Contains antiviral properties

Lowers blood cholesterol levels

Reduces blood pressure

Aids ADHD, fatigue, stress, premenstrual syndrome and depression

Cacao Nibs
Excellent source of magnesium

High in antioxidants

Boosts energy, improves mood & cholesterol levels

Purchase cacao nibs raw and fermented for the full nutritional value

Cacao Powder
Flavonoids to lower blood pressure and improve blood flow to the brain and heart

Low fat and low calories

Rich in antioxidants

Tastes amazing

Buy cacao raw and fermented for the full nutritional value

Do not confuse cacao for cocoa or carob!

Chia Seeds
Boost energy

Lower cholesterol

Aid digestion

Stabilize blood sugar levels

Improve heart health

Packed with protein, fiber, phosphorus, manganese, calcium and omega-3s

Reduce food cravings and promote a feeling of fullness

Slow down carbohydrate conversion

*Be sure to soak before ingesting, if not can cause constipation.

Coconut Oil
Powerful and nutritious food source

Host of health benefits for internal and external use

Antibacterial, antifungal, antiparasitic, and antiviral

Promotes insulin secretion and blood glucose utilization

Buy virgin, raw, organic coconut oil

Goji Berries
Rich in vitamin A and antioxidants

Promote clarity and mental well being

Calm nerves and promote better sleep

Hemp Seeds
A nutritionally complete food source

Contain all essential fatty acids and amino acids needed in a healthy body

Complete protein with omega-3 & omega-6

Contain gamma-linolenic acid

Anti-aging effects

Maca Powder
Great for hormone balancing

Supplies energy and boosts endurance

Undoes damage from fatigue, repairs and regenerates

Rich source of vitamins and minerals

Probiotics
Regulate digestion and intestinal function

Improve immune function

Lower cholesterol

Reduce blood pressure

Improve brain function

Help with irritable bowel syndrome

Spirulina
A highly bioavailable, completely rich protein

A concentrated, nutritious food source

Can lower cholesterol, blood pressure and the risk of cancer, stroke and heart disease

Rich source of calcium, iron, magnesium manganese, potassium, selenium, zinc and vitamins B, B12 and K

Wheatgrass
70% chlorophyll

Reduces blood pressure

Removes toxic metals from the body

Rejuvenates aging cells

Tightens loose skin

Fights tumors

Cleanses the blood
Getting Started With Juicing
Let's put the knowledge we've gained together and get you started on your juicing journey.
Ideally, juice should be consumed on an empty stomach first thing in the morning. If not, wait at least an hour after solid food before drinking juice.
Juicing is best for people with illnesses, as the body can quickly absorb the nutrition without working too hard. People with weak digestive systems should start slowly along the juicing journey, and increase their consumption over time.
To fill a 16oz. glass, you will use more produce to juice than you would in a blender. I personally enjoy juicing and blending daily, they're both a dynamic part of my meal plan.
Juicing Tips
Place a recycled plastic bag in the pulp catcher for quick cleanup.
Wrap wheatgrass in a lettuce leaf for easier juicing.
Re-juice your pulp to see if you can get more juice from it.
Wash the juicer components right away or at least soak the parts to make them easier to clean later.
Always store your juice in glass, not plastic.
Delicious Plant-Based Juices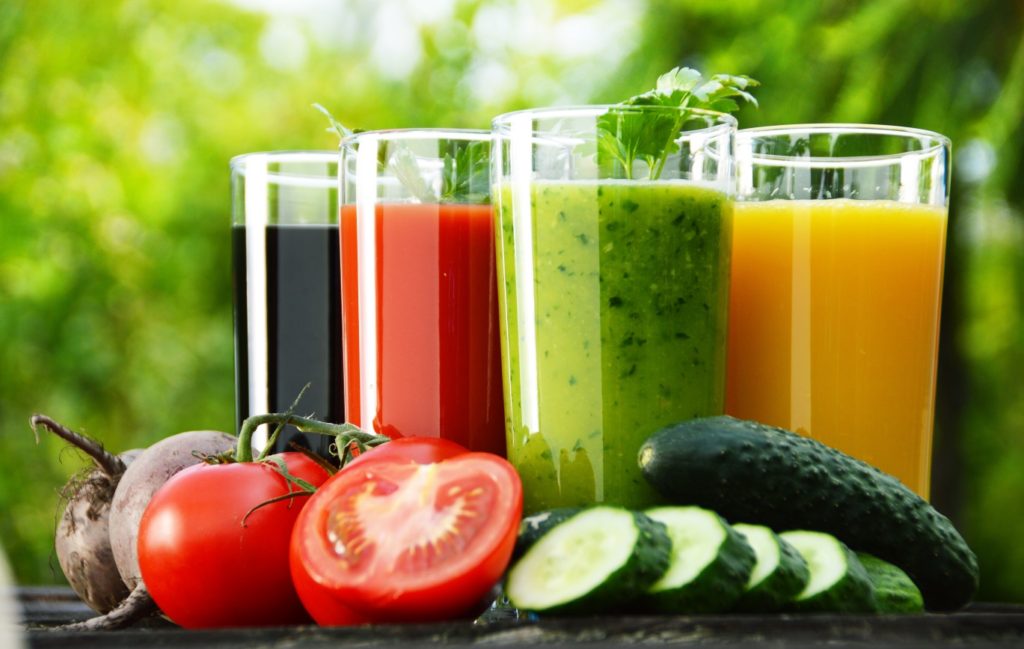 We've prepared a few recipes that deliver juice for 1-2 servings.

Ultimate Green Juice
2 handfuls spinach
6 romaine leaves
2-3 kale leaves, stems removed
4 parsley stems and leaves
1 medium cucumber
5 celery stalks
1 Granny Smith (green) apples (if not in season, use Fuji)
Juice all ingredients in the order listed.
Balancing Alkalizing Juice
2-3 cups spinach
1 lemon, juiced
1 lime, juiced
Small pinch of cayenne
1 cup coconut or filtered water, stirred in (use water from a fresh coconut, if possible)
Juice all ingredients in the order listed before stirring in the coconut water.
Hydrating, Cell Building Juice
1 Granny Smith (green) apple
2 basil leaves
½ cucumber
2 celery stalks
2 carrots
Juice all ingredients in the order listed.
Alkalizing Juice for Cell Repair & Bone Strengthening
1 orange, juiced
½ lemon or lime, juiced
1 apple
6 medium kale leaves
3 celery stalks
Juice the citrus and set aside.
Juice the remaining ingredients in the list order and pour in a glass, add the citrus juice and enjoy!
Cool, Calm & Beautiful Juice
1 cucumber
3 medium kale leaves, stems removed
3 chard leaves
1 apple
½ lemon, juiced
Juice all the ingredients in the order specified.
Rejuvenating Juice
1-inch piece of ginger
1 cucumber
6 mint leaves
1 apple
3 romaine lettuce leaves
¼ fennel bulb
½ lemon, juiced
Juice all ingredients in the order listed.
Energizing Juice
1 Granny Smith (green) apple
3 carrots
4 kale leaves, stems removed
2 handfuls spinach or romaine lettuce leaves
½ lemon, juiced
2-inch piece of fresh turmeric or a generous pinch of ground
Pinch of cayenne (optional, to taste)
Juice all the ingredients in the order listed. If you're using powdered turmeric, stir it into the juice along with the cayenne pepper.
Detox Juice
2 tomatoes
½ medium beet
1 cup cilantro
1 small piece jalapeño (optional)
2 stalks celery
1 lemon, juiced
Pinch of pink Himalayan salt
Purified water if needed
Juice all ingredients in the order listed. Stir in Himalayan salt after juicing.
Mind, Health & Body Juice
1 Granny Smith or Fuji apple
1-inch piece fresh ginger
1-inch finger-size piece fresh turmeric, or powdered if fresh is unavailable
2 celery stalks
1 medium cucumber
¼ beet with two beet green leaves
1 handful spinach
2 carrots
Juice all ingredients in the listed order. If you're using powdered turmeric, stir it in after juicing.
Power Juice
1 cup spinach
8 mint sprigs
½ cucumber
4 celery stalks
3 kale leaves
1 cup pineapple
½ lemon, juiced
Juice all ingredients in the order listed.
Pain Relief & Weight Loss Juice
3 kale leaves
7 romaine leaves
1 cucumber
5 tangerines, juiced
Juice all ingredients in the order listed.
Heart Health Juice
1 Granny Smith apple
4 chard leaves
½ cup green cabbage
3 medium carrots
½ medium cucumber
Juice all ingredients in the order listed.
Hangover Juice
2 apples
Handful of mint leaves
½ large cucumber
2 large carrots
3 large romaine leaves
1 pear
½ lemon, juiced
Juice all ingredients in the order listed.
Cleansing, Building, Boosting Juice
1 golden or red beet
½ bunch parsley
1 small piece jalapeño pepper
1 garlic clove or 1-inch piece of ginger
2 large carrots
5 romaine lettuce leaves
3 celery stalks
Juice all ingredients in the order listed.
Hydrating Heart Health Juice
2 cups spinach
1 medium cucumber
2 celery stalks
1 pink grapefruit, juiced
Juice all ingredients in the order listed.
Blood Boosting Juice
10 medium kale leaves
1-inch piece ginger
1 medium beet
2 Fugi apples
1 lemon, juiced
1 orange, juiced
Juice all ingredients in the order listed.
Alkalizing Juice
1-inch piece ginger
2 celery stalks
½ cucumber
1 small beet
2 large carrots
½ lemon, juiced
Juice all ingredients in the order listed.
Energizing Summer Juice
1 medium cucumber
½ fennel bulb
2 handfuls spinach
2 celery stalks
1 Granny Smith (green) apple
1 pear
Juice all ingredients in the order listed.
Immune Booster Juice
3 romaine leaves
2 mint sprigs
½ cucumber
1 Granny Smith (green) apple
1 Fuji apple
½ lime, juiced
A pinch of sea salt
Juice all ingredients in the order listed.
Juicing for Your Children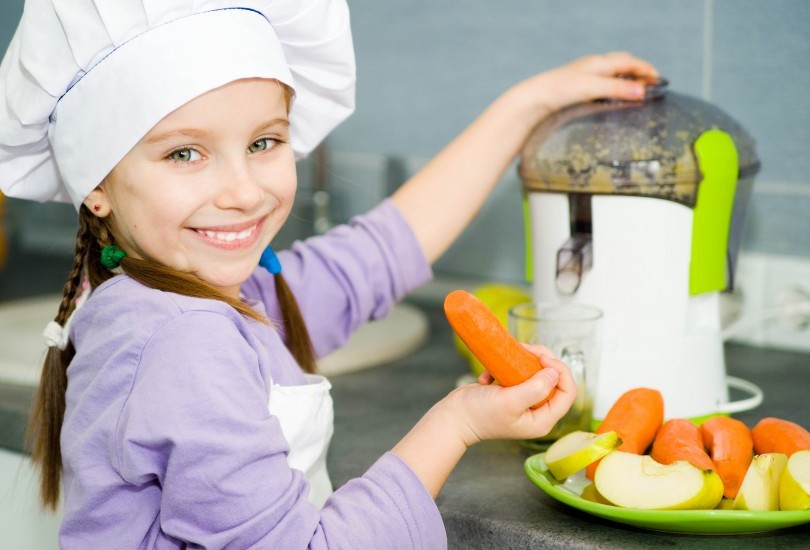 Most moms have a hard time getting their kids to eat vegetables, but juicing and blending offer the perfect solution. Keep in mind when choosing a blender, that textures are very important to little ones.
Children tend to enjoy cooking, so it's a great idea to involve them in gardening or visiting the farmers' market. Allow them to choose some produce and then, invite them to help you prepare your fruit and vegetables for juicing. Let them rinse and scrape the vegetables, and show them how you make the juice. They will be fascinated!
I've learned that my nieces and nephews are much more excited to try new things if they've helped in the preparation. Even the simplest of tearing leafy greens apart or getting to flip the on switch… they take ownership, and now it's "theirs". They are much more willing to try "their" new and different foods.
Juice is a wonderful addition to your child's diet. Give it to them in the morning, or as a mid-afternoon snack, but not with meals (liquids digest much faster than solid foods).
Expert Tip:  Juicing is the best way to conceal broccoli, roots, and spinach with fruits to increase their intake of greens and vegetables. And smoothies are a great way to get healthy fats like avocado, coconut oil, and coconut butter into kids' diets. These give the smoothie a creamy texture!
Child-Friendly Juice Recipes
Popeye Juice
1 handful spinach
½ cup pineapple
½ cucumber
Juice or blend all the ingredients. **This one is great as a juice or smoothie!
Super Juice
1 Golden Delicious apple
1 handful spinach
2-inch piece of cucumber
1 very small piece of beet
Handful of berries
Juice or blend all the ingredients. You may have to add a little purified water if you blend it.
Happy Juice
½ cup berries
½ apple
1 celery stalk
Small piece of cucumber
½ frozen or fresh banana (only for blending, not juicing)
Juice or blend all the ingredients. You may have to add a little purified water if you blend it.
Final Thoughts
Juicing is a fantastic addition to your lifestyle. It's not a diet with strict rules, but rather a flexible addition to your meal plan. Have fun with it… get creative! If you don't enjoy certain fruits or vegetables, conceal them with other good ingredients so that you can receive the nutritional benefits.
I hope this guide gave you some great ideas, and inspired you to max out your nutrition!
Happy Juicing!