Last updated: November 11th 2017
Have you ever played one of those word association games where someone says a word and you say the first thing that comes to mind? Well, what's the first thing you think of when you hear the word detox? Healthy.. toxins.. cleanse? In our culture, detox is a word that often incites controversy. Do we need it or is it just a trend with a lot of hype?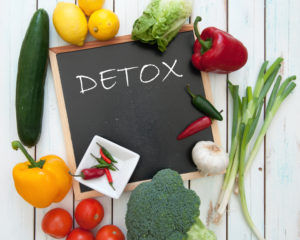 Daily exposure to toxins through our own choices and environment are one of the leading causes of ill health, obesity and a general lack of well-being. Food is one of the biggest causes of toxic buildup in our bodies, but thankfully, we also have the greatest control over it.
Organic pollutants and metals present in the environment and in pesticides used in food processing collect in the fatty tissues of the body and can take years to break down and be expelled.
These toxic substances disrupt the hormones, resulting in abnormal growth, which is why we see girls developing breasts and starting menstruation at a younger age than in past generations. Such early development has many side effects, including causing the girls to suffer from PMS, embarrassment, weight gain, and becoming sexually active sooner. Most importantly, the younger a girl is when her breasts start forming, the younger the age at which she might develop breast cancer. Alzheimer's disease, Parkinson's disease, fibromyalgia, and cancer are just some of the diseases associated with toxic buildup.
Food for Thought:  Have you ever seen when workers spray pesticides on crops? Work safety regulations require that they wear head-to-toe protective gear, and gas masks to prevent exposure to the toxins in the pesticides. Yet we eat that same produce without a second thought! Does that make sense?
Toxic Buildup & Obesity
If you reached this post to learn about detoxing for weight loss, you have probably read my previous post, in which I included a questionnaire to determine whether you have toxins built-up in your body. If you have any of these risk factors, it would be wise to detox.
Detoxification is a key component of weight management, because:
Proper detoxification ensures that the liver is able to properly metabolize sugar and fat
Detoxification can help correct hormonal imbalances to ensure proper communication between the brain and the gut.
In this post, we will discuss the details, which comes down to a basic principle:
~ Eat clean foods and avoid processed foods. ~
 Many people try every new fad diet on the market in a bid to lose weight, just to drop a few pounds and gain it all back (and then some) within months of stopping. What they don't understand is that if you don't detox first, your body is not in optimum health to kickstart weight loss.
Detoxification is a whole-body process that reduces the toxic overload in your organs, tissues and cells. Cleansing is not a one-time thing.
Just like you keep your house clean by maintaining order between major "spring cleans", you must constantly remove toxins (heavy metals, artificial additives, preservatives, pesticides, sugar, alcohol, tobacco, caffeine, bacteria, viruses, pharmaceuticals) from your organs, tissues and cells – specifically the liver, kidneys, digestive tract, lungs and skin. If you don't cleanse, you will look old, feel tired, and be prone to disease and weight gain. Just as you are regularly exposed to toxins that gradually build up, regular cleansing ensures that you constantly eliminate toxins to prevent them from building up at all.
Expert Tip: There are many ways to keep your different organs clean. Deep breathing in your nose and out your mouth can help keep your lungs clean.
Here are some of the benefits of detoxification:
You realize you can enjoy a lighter eating style
Better digestion, easier elimination and fewer digestive problems
Fewer food allergies
Less respiratory congestion
Improved energy due to better nutrient absorption
Improved vitality
As humans living a busy lifestyle, we tend to want quick fixes for everything, and people have created fast cleanses. However, many of the fast methods do more harm than good, as they infiltrate the bloodstream with toxins, cause nutritional imbalances, and slow down the metabolism, resulting in yo-yo weight loss. Let's look at some of them:
Juice Detoxes:  Juicing is great, as it floods the body with nutrients, but using too many fruits and not enough vegetables is one of the biggest mistakes people make. Fruit juice is high in natural sugar and calories.  It also lacks fiber, which is needed to buffer the body's sugar uptake. Sweet juices can cause blood sugar levels to spike and the metabolism to be impeded. It is often suggested that juice cleanses be supplemented with psyllium husk, colonics and enemas, but that kind of assistance is an unhealthy way to cleanse.
Smoothie Detoxes:  Smoothies are great for managing cravings and they contain fiber, which is great for the digestive system. It's the healthiest of the many fad cleanses, but it may be hard to maintain in the long run. I would rather suggest smoothies as part of a more comprehensive cleanse.
Water Fasting:  This involves drinking copious amounts of water with cayenne pepper and lemon juice. Devoid of nutrition, this is harmful in the sense that it causes muscles to break down and nitrogen and ammonia levels in the blood to rise. According to a Swedish study, published in the Metabolism journal, this can result in weakness and nausea.
Tea-Toxes:  This is nothing more than a glorified water fast. Some tea ingredients are fantastic for increasing energy and metabolism, and reducing appetite and bloating, but it should not constitute a complete cleanse.
Raw Food Detox:  It is not as easy as it sounds and the body has a hard time processing the raw fiber. That means that this type for detox fails to promote nutrient absorption. If you decide to follow a raw food diet, be sure to balance the raw food with some cooked foods.
The healthiest cleanse by far, is a Real Food Detox. Whether you follow it for 5 days or for life, you will receive sufficient nutrition to keep you going, while feeding your body all the antioxidants and phytochemicals you need to rid your organs of any toxic buildup.
#1. Detoxing with Clean Food
By following a natural, organic, plant-based diet, you will cut out all foods that contain harmful chemicals. Add plenty of clean, fresh, filtered water to flush out the impurities, and you will start looking and feeling better in a few days. Ideally, this should not be a diet that is followed for a certain amount of time, but rather a way of life. Detoxification is not a once-off or occasional practice, because we consume toxins every day.
Detoxification offers a deluge of benefits, including:
Boosting weight-loss results, including getting rid of those last stubborn pounds, fast.
Setting the foundation for lifelong healthy lifestyle.
Improving your mood.
Improving your memory. The brain is 60% fat, and needs healthy fats from nuts, seeds, avocado and olive oil for peak function.
Sharpening brain function – The Journal of Neuroscience published a study by researchers from Tufts that suggests that a diet rich in anti-inflammatory and antioxidant components from vegetables, fruits, nuts and spices can help reduce age-related declines that lead to brain diseases.
Expert Tip:  Ready to switch to a healthier way of life? Start off with a 5-day cleanse, where you eat the foods mentioned in this article five times a day. You will lose weight, but most importantly, you will be rid of the cravings that can make you fall back into your old ways, hampering permanent weight loss.
#2. Why It Works: Plant Based Detox Principles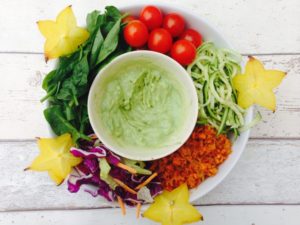 High protein and low-fat or low-carb diets are all the rage right now.  But when you speak to people who have succeeded in losing weight, keeping it off, and feeling great, they will all agree that a plant-based diet is the only one that actually worked for them. Science agrees, according to the Journal of Clinical Nutrition, which published a study showing how vegans lost weight much faster than meat-eaters.
Benefits of a Plant-Based Detox
But why do plant-based diets work so well?
1. Firstly, plant based diets improve sensitivity to insulin, allowing the body to utilize it appropriately to provide the cells with glucose for energy. When the cells are insulin resistant, the blood sugar is stockpiled in the bloodstream. It is stored as fat in the organs, and can cause injury to the blood vessels and tissues.
2. Plant-based diets also mean that you don't need to count calories, weigh your food or assign points to every bite. At the end of the day, it is not points, calories and grams that help you lose weight and feel good, but rather the nutritional value of your food. While real foods (plants) are naturally low in fat and calories, they contain plenty of essential nutrients. Instead of counting calories, focus on counting colors. The more colorful your plate, the better!
3. The modern diet does not contain sufficient fiber to stimulate the body into detoxifying itself, but a plant-based diet does. Fiber is essential for sweeping excess toxins and fat out of the digestive tract. Diets low in fiber causes the toxins to be re-absorbed and circulated through the body, which can cause serious conditions, including obesity, diabetes, appendicitis, colon cancer and heart disease.
4. Fiber also curbs your appetite, which is helpful if you tend to overeat. Eating plenty of colorful fruits and vegetables pack a two-pronged punch. It keeps you fuller for longer, and since it provides all the nutrition you need, you will be less likely to crave all the wrong foods.
Finally, by enjoying many fibrous, plant-based foods, your body will take longer to digest sugar, which will reduce the quick highs and instant crashes. Thus, your energy levels will be maintained throughout the day.
Plant-Based Cleanses Deploy Toxin Avengers
Apart from detoxifying fiber, a plant-based cleanse also deploys other important toxin avengers, namely:
Antioxidants – Plant foods contain naturally occurring chemicals that promote detoxification, including vitamins A and C, beta-carotene, selenium and glutathione – the most potent of all the antioxidants.
Phytochemicals – These potent warriors destroy environmental toxins that damage the DNA and switch on cancer-causing genes. A Polish medical journal published a report that showed how the phytochemicals in broccoli, Brussels sprouts and cauliflower optimize the body's natural detoxification system to neutralize chemical threats. The best phytochemicals include succinic acid, chlorophyll, sulfur, dithiolethiones, glucosinolates, sulforaphane, flavonoids, and B-vitamins.
Together, these toxin avenging agents will remove all the toxins found in processed foods, meats, dairy products, and plastic containers that cause damage in the body by activating disease and throwing the hormones out of whack.
Plant-Based Cleanses Restore the pH Balance
Your body's power of hydrogen (pH) level needs to remain as close to 7.4 as possible. Anything under 6.9 is acidic and 7.1 up to 14, is alkaline. A diet high in fat- and acid-producing foods throws out the delicate pH balance, and an acidic body is prone to weight gain, yeast overgrowth and the activation of cancer genes. Foods that cause acidity include commercial baked goods, dairy, white flour, commercial juices, meats, pasta, boxed cereals and sugar in all its different forms. An acidic body will siphon off vital minerals from the bones in order to try to neutralize acidity, and that can lead to osteoporosis.
An article published in the Journal of Environmental and Public Health (2012) stated the benefits of an alkaline diet rich in fruit and vegetables, which included the following:
Improved potassium to sodium ratio, which preserves fat-burning, curvy muscle, stabilizes blood pressure, prevents strokes and benefits bone health.
Protection against aging and heart disease, better body composition and weight control, and improved memory and cognitive skills.
Increased magnesium in the cells, which benefits almost every bodily process on a cellular level.
The ideal diet should comprise of up to 80% alkaline foods and no more than 30% acid-forming foods.
Plant-Based Cleanses Fight Cravings
The need for a certain nutrient is often the cause for cravings – the main culprit in weight gain for many people. In many cases, cravings can be curbed by eating a healthy alternative instead of the often-unhealthy food you are craving. For instance, a chocolate craving can be eliminated by eating some seeds or nuts, or popping a magnesium pill. If your body needs something fatty or crunchy, reach for unsalted almonds instead of chips.
Of course, there are times when these alternatives may not fill the gap, which is why I recommend working towards preventing the cravings altogether by following a nutrient rich diet. But if all else fails, you may be prone to emotional eating, or you may be mistaking thirst for hunger. Here are some ways to ease the cravings with none of the guilt, from The 5-Day Real Food Detox by Nikki Sharp.
| | | |
| --- | --- | --- |
| WHEN YOU CRAVE… | YOUR BODY REALLY WANTS… | TRY EATING THIS INSTEAD… |
| A burger | Fat | Sliced avocado |
| Sweets | Chromium | Fresh fruit or sweet potatoes |
| Chocolate | Magnesium | Nuts, seeds, legumes, or fresh fruit |
| Salty foods | Calcium, chloride, potassium, vitamin E | Unsalted nuts (such as almonds), fresh fruits, or vegetables |
| Carbs (such as bread or pasta) | Nitrogen, vitamin C, chromium | Almonds, citrus fruit, broccoli, grapes, or beans |
| Red meat | Iron, zinc, and amino acids | Organic chicken and turkey, wild-caught salmon; green vegetables, like watercress, kale, and broccoli; mushrooms; and nuts |
By opting for nutrient-dense replacements for whatever you're craving, you will keep your body clean and healthy.
#3. What to Eat: Foods That Cleanse and Peel Off Pounds
Let's be honest with one another… The main reason why many of us want to detox, is to lose weight. That's perfectly fine. I'm sure that most people who embrace the plant-based lifestyle started out that way – and if you don't stick with it on a permanent basis, that's fine too. So let's take a look at what it entails.
My all-time favorite cleansing regime involves plenty of healthy, organic, whole, real foods… things that grow on a tree of out of the ground. The more you eat these types of foods, the better you will look and feel.
Cleansing Fruits and Vegetables
Here are the types of foods that promote detoxification. Eat them raw in salads or in smoothies, or cook them.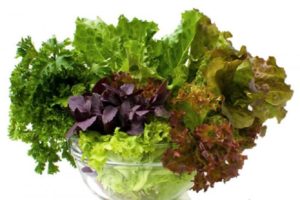 Leafy Green Vegetables:  Spinach, chard, arugula, kale, wheatgrass, spirulina, alfalfa, broccoli sprouts
Why?  Leafy greens are nutrition-laden and also contain liver-detox properties such as glutathione, sulfur and chlorophyll that will remove environmental toxins from your digestive tract.
Citrus: Lemons, limes, oranges and grapefruit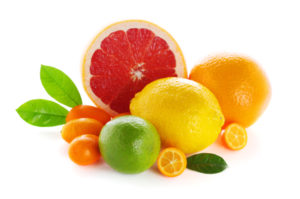 Why?  Citrus jump-start the enzymatic processes in the digestive tract and flush out toxins by aiding the cleansing processes in the liver. The vitamin C content in citrus fruits help transform the toxins into more easily digestible materials. Boost your digestion first thing in the morning, by squeezing half a lemon into a glass of water, and drinking it on an empty stomach.
Expert Tip:  Heat your water first before adding the lemon juice for an added cleansing bonus to your digestive system. Why? A Chinese herbalist once asked me, "Do you clean dirty dishes with hot water or cold water?"
Onions: Onions, shallots, green onions (scallions) and raw red onions
Why?  According to The 9-Day Liver Detox Diet by Patrick Holford and Fiona McDonald Joyce, onions are great sources of sulfur-containing amino acids, which make glutathione. It rids the liver of caffeine and acetaminophen.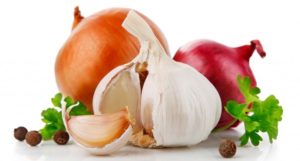 Raw red onions contain quercetin, which promotes liver function. Eat raw onion to enjoy the full detox effect.
Garlic
Why?  Garlic stimulates the liver to produce detox enzymes to help flush out toxic residues from the digestive system.
Beans, Legumes & Lentils  Green beans, garbanzo beans (chickpeas), mung beans, peas, lentils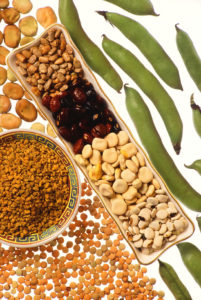 Why? Beans and legumes are great sources of cholecystokinin, a natural appetite suppressant that detoxes the liver. Rich in protein, beans and lentils are easy to add to soups and salads or to enjoy as a side dish. Chickpeas are rich in folate and vitamin B6, and extremely versatile. Lentils pack a powerful protein punch with a high mineral content that includes calcium, copper, iron, magnesium, potassium and zinc. Delicious in salads, stews and soups.
Expert Tip:  Eat Sprouted Grains All plants contain phytic acid in some levels, but the amount in grains and legumes are much higher. Phytic acid stops your digestive system from absorbing the nutrients and reduces the benefits of these foods. The process of soaking, sprouting or fermenting grains reduces the anti-nutrient content. If you don't want or have time to sprout your own; you can also buy them… look for sprouted lentils and sprouted quinoa. *You're tummy will be able to tell the difference!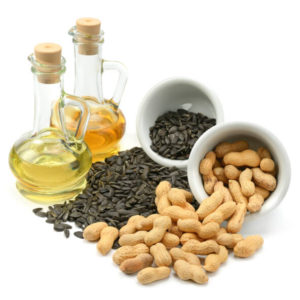 Nuts, Seeds and Oils  Sunflower seeds, chia seeds, sesame seeds, hemp seeds, walnuts, pecans, macadamia, almonds, pumpkin seeds, flaxseed, olive oil, fish oil, avocado oil, hemp oil, flaxseed oil
Why?  (Raw) Nuts, seeds and oils provide essential omega-3 oils that detoxify while lubricating the intestinal walls. Toxins are absorbed by the oils and eliminated, instead of being absorbed into the body.
Expert Tip: Eat Sprouted (Raw) Nuts & Seeds Most people don't realize that nuts and seeds can be quite problematic to digest when not properly prepared. They contain the highest amounts of phytic acid and enzyme inhibitors. These are necessary for plants, protecting the nut or seed until proper growing conditions are present to then germinate. However, these inhibitor enzymes make protein use and digestion harder for us (binding to nutrients in the body; causing nutrient deficiencies and irritating the digestive system). Soaking and sprouting nuts and seeds increase their vital minerals and nutrition.  This is great for weight loss and maintenance goals (!).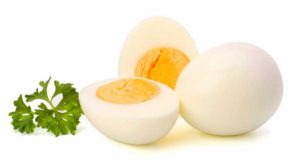 Eggs
Why?  Eggs are the most digestible of all the proteins, and help increase heart-protective HDL, or good cholesterol. They provide sulfur, which produces keratin and collagen, and choline for reduced inflammation and improved brain function.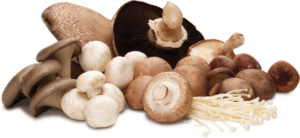 Mushrooms
All types of edible mushrooms (Shitake, Maitake, King, & Oyster are my favorites!)
Why?  Some mushrooms have a meaty flavor (ex. King), which is great if you struggle to transition to a plant-based diet. Mushrooms also enhance the immune system, improve liver function and stimulate the body's ability to fight cancer.
Did You Know?  Mushrooms are the only plant source of vitamin D, which helps with weight control and depression, and fights many diseases.
Radishes
All types of radishes
Why? Rich in phytochemicals, radishes fight cancer and heart disease by eliminating toxins from the liver. Radishes also have a high water content that keeps you hydrated while it detoxifies, leaving your skin healthy and fresh.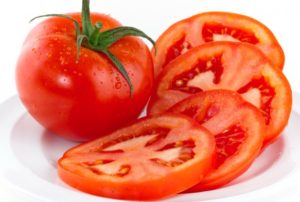 Tomatoes
All types (Bonus: Get heirloom tomatoes from your local farmers market. The flavors are amazing!!  My favorite is the Striped German variety.)
Why? Lycopene, which gives tomatoes their rich red color, is a powerful, cancer fighting antioxidant that also reduces LDL cholesterol to keep the heart healthy. It also contains vitamins A, B and C and potassium.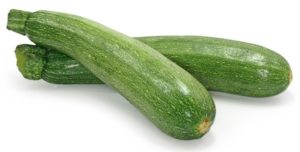 Zucchini
Why?  Zucchini contains vitamins C, K, and B, as well as potassium, and antioxidants. It has alkalinizing properties and they are very versatile in dishes. (Try making zucchini "noodles"… SO easy!)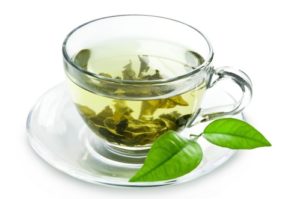 Green Tea
Why? Rich in catechins, green tea helps to increase liver function by washing toxins out of the body.
Fermented Vegetables
Why? Full of probiotics, fermented veggies are a game changer for your gut health. Try raw sauerkraut and kim chi, they'll feed the good bacteria of your gut! Don't worry this isn't the horrid school cafeteria version… it's raw, cold and the taste is similar to pickles! (Note: Cultured food is a better option than a pill.)
Last but Not Least
Also include these cleansing fruits and vegetables in your detox diet:  Beets, bell peppers, purple cabbage, carrots, cucumber, apples, avocado, and berries.
Cleansing Grains
Not all carbs were created equal, so don't presume they are all "evil".  Gluten-free oats and quinoa are amazing for your health and your waistline alike, as both contain fat-burning protein (especially quinoa) that will keep you energized all day long.
Cleansing Herbs
Few things enhance a meal like fresh herbs, especially mint, cilantro and basil – better yet, they offer fantastic health benefits.
Mint is a soothing, calming herb that counters sweet cravings and speeds up digestion. It can be used as a natural sweetener and is high in antioxidants.
Cilantro is high in antioxidants, combats heavy metal toxicity, and is packed with manganese, magnesium and iron to promote muscle growth, reduce stress and improve sleep.
Basil contains vitamins A, C, and K, as well as antibacterial properties and flavonoids.
Cleansing Spices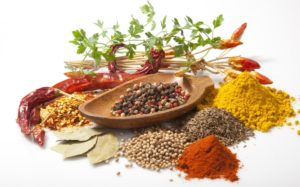 Along with fresh herbs, natural spices have great health benefits which extend beyond just creating incredible flavors. Let's take a look:
Black pepper is great for the digestive system. It also contains piperine, which increases absorption of vitamins, minerals and antioxidants.
Cayenne pepper is a natural fat burner that enhances the immune system by increasing detoxification.
Cinnamon fights sugar cravings, enhances the metabolism, manages blood sugar levels and helps repair body tissues.
Ginger has anti-inflammatory and antibacterial properties. It calms the digestive tract and lends a spicy sweetness to your favorite dishes.
Turmeric also has powerful anti-inflammatory properties and may be helpful in treating a variety of illnesses.
Expert Tip:  Feeling under the weather? Steep 1/8 teaspoon each of ginger, turmeric, cayenne pepper and 1 teaspoon raw honey in a mug of boiling water. Enjoy this "power tea" three times a day to knock out all the cooties and feel great in no time.
Cleansing Fluids
I don't need to tell you how important it is to drink plenty of fresh, filtered water. It keeps you hydrated, and it helps to flush toxins from your system. Water has been scientifically proven to plump the skin and create a youthful glow. Drink at least 2-3 liters per day. It's important to note that regular tap water is highly contaminated, most often containing fluoride, chlorine, and other nasties!
Consider investing in an alkaline water bottle, which aids detoxification, improved hydration and improved energy levels. You will find portable alkaline water bottles or alkaline water filters that attach to your faucet. Avoid drinking alkaline water within less than thirty minutes before and after meals, and build up the amount of alkaline water in your body slowly, starting with no more than eight ounces a day. Some people experience intense detox symptoms from drinking too much alkaline water too soon.
Expert Tip:  Upgrade your water by adding fresh fruit, green tea, spirulina powder, ginger, mint, citrus slices, cucumber or whatever pleases your palate and ensures that you drink enough.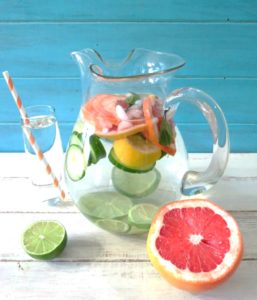 #4. Give Your Body a Break: Skip these Anti-Cleanse Foods
For best results, you should stick as closely to the clean foods as you possibly can, at least for 5 days, if you're not planning to switch to a clean-eating lifestyle on a permanent basis. Even by cutting out the wrong foods and beverages for a short period of time, you will rid your system of the impurities and the toxic effects which will help restore your body's ability to perform at a better level.
While there is so much goodness in the clean foods mentioned above, there are some things you should try to avoid whether you're currently on a cleanse or not:
Alcohol damages the cells in the liver, muscles and brain. It causes excessive calorie intake and bloating, and prevents you from reaching rapid eye movement during sleep, which leaves you feeling tired. Alcohol inhibits digestion and causes dehydration, which results in constipation and a buildup of toxins in the digestive tract.
Artificial sweeteners are chemicals, which should be avoided. They also stimulate the appetite and food cravings.
Added Salt causes water retention and bloating, and the minerals can clog your arteries, leading to obesity, heart disease, kidney stones and strokes, to mention a few.
Caffeine disrupts the digestive process, which is key to detoxification. Green tea is an exception to the rule and acceptable during the detoxification process.
Corn grown in the United States that is genetically engineered (GMO) accounts for 85% of the crops, so I suggest avoiding completely. Be watchful… as it's often added to many foods, from salad dressings and baby formula to meats and margarine.  Corn derivatives fall under many names (citric acid, confectioner's sugar, corn flour, corn fructose, corn meal, corn oil, corn syrup, dextrin and dextrose, fructose, lactic acid, malt, mono- and diglycerides, monosodium glutamate, sorbitol, corn starch (baking powder usually contains cornstarch, by the way). Many vitamins also contain corn.)
Dairy products may contain antibiotics, hormones, and toxins. Some people also have a hard time digesting lactose; however, goat and sheep products are easier to digest, as their milk is more similar to human milk. Dairy also has mucus and acid-forming properties that compromise the body's immune response. If you do choose to eat dairy, source organic, raw products — milk, cheese, kefir, yogurt– from a local, trusted farmer. Ask if they use growth hormones, antibiotics, or have soy or corn (both usually GMO) in their feed.  Note: Raw (not pasteurized) is important because the food still contains the enzymes needed in order for your body to digest that food.
Meat and animal products can cause the digestive system to become sluggish. These products tend to be high in saturated fat, hormones, antibiotics and other contaminants, and are acid-forming. (See Dairy comment, ask same questions.)
Fast foods and packaged foods contain a ridiculous amount of fat, sugar, and salt that cause cravings and addictions, as well as genetically modified ingredients.
Protein powders (even the vegan options) are highly processed. Some whey powders contain up to 30 ingredients. Read ingredient labels and avoid sugars, additives, lecithin, guar gum, etc.
Sodas (including the diet versions) contain many chemicals, sugar and aspartame, which have been linked to numerous diseases. The chemicals in sodas dissolve tooth enamel, which leads to gum disease and cavities.
Soy grown in the United States that is genetically engineered (GMO) accounts for 94% of the crops, so I also suggest avoiding it completely. Be careful… as soy is often added to foods under many sneaky names… artificial flavoring, hydrolyzed plant protein, natural flavoring, soy fiber, soy flour, vegetable broth, vegetable gum, vegetable starch, stabilizer, soy lecithin, soy beans, soy milk, soy bean oil, soya, soy sauce, shoyu, soy protein, soy cheese, soy yogurt, soy ice cream, tempeh, tamari, tofu, miso, natto, textured vegetable protein.
All types of sugar (including agave, fruit juice concentrate, date sugar, dates, date syrup, white sugar, brown sugar, organic cane sugar, evaporated cane juice, coconut nectar) are addictive and feed the bad bacteria in your gut that causes fatigue, skin problems, digestive issues, mood swings and more.
What About Bananas?
During your cleanse, you will also avoid certain healthy foods, including:
bananas
winter squash
sweet potatoes
Why? Because these foods are low in protein, high in starch and not very high in fiber. By all means, enjoy them during your long-term healthy diet, but just not during a cleanse.
#5. The Pre-Tox
Now that you know the what, why and how of a detox, it is time to start your pre-tox – the preparation phase of your detox. It starts with getting rid of all the junk in your home, and stocking the kitchen with all the right foods. Preparation is key to a successful detoxification process.
When to Start Your Detox
Choose a week when your schedule won't be as demanding, and start on Sunday or Monday. I would not recommend starting when you're on your period, as that will likely leave you feeling grumpy, and you're bound to experience cravings.
You can cleanse while you are pregnant, provided you have cleared it with your doctor and you are taking your prenatal supplements. If you have any other medical conditions, be sure to clear it with your doctor first.
Ease into Your Cleanse
It's only natural to want to start right away, but it's okay to take it slowly too.
If you consume dairy or meat daily, or eat out on a regular basis, or enjoy several cups of coffee and tea with sugar every week, you may want to start slowly so as to prevent being overwhelmed. Start by making small changes, such as dropping sugar from your beverages, or taking a salad to work instead of eating out at lunch. Once you have mastered the one, take on the next. Swap a candy afternoon snack for a fruit and so forth, until you are truly ready to cleanse. You will be surprised as to how quickly your taste buds adjust.
Clean Out Your Kitchen
Next, ask someone to help you clean out your kitchen and pantry. Remove everything that's not listed above, including alcohol, coffee, cheese, fried foods, frozen meals, commercial juices, ice cream, milk soda, sugar, and salad dressings.
Check food labels and remove items that contain:
Any ingredients you can't pronounce or don't sound like food (polysorbate 80)
Artificial sweeteners (aspartame, sucralose, saccharin, neotame, acesulfame-K, acesulfame potassium, glycerol, erythritol, isomalt, maltitol, polydextrose, sorbitol, xylitol)
Artificial colors (most common… blue 1, blue 2, green 3, red 3, red 40, yellow 5, yellow 6, FD&C Lakes, Citrus Red 2)
Preservatives (Ammonium sulfate, Butylated hydroxyanisole (BHA), Butylated hydroxytoluene (BHT), sodium nitrate, sodium nitrite, sodium benzoate)
All forms of sugar (Fructose, glucose, maltose, lactose, dextrose, and sucrose, cane sugar, fruit juice concentrate, high-fructose corn syrup, isomalt, polydextrose, glycerin, erythritol, agave nectar, corn syrup, fruit juice, caramel, molasses, treacle, rice syrup, malt syrup, turbinado sugar, and evaporated cane juice)
MSG (Glutamic acid, monosodium glutamate, glutamate, Anything"hydrolyzed", Any "hydrolyzed protein", yeast extract, gelatin, whey protein, soy protein, soy sauce, carrageenan, bouillon and broth, stock, natural flavor, maltodextrin, citric acid, citrate, anything "ultra-pasteurized", brewer's yeast, pectin, malt, seasonings) Click Here for an extensive list.
White flour (all-purpose flour, unbleached flour, bleached flour, enriched flour, bread flour, high protein flour, self-rising flour)
Gluten (wheat, whole wheat, bread crumbs, bulgar, spelt, rye, kamut, farro, semolina, barley, malt, seitan, pasta noodles, couscous, dextrin, maltodextrin, monosodium glutamate (MSG), soy sauce, tamari, teriyaki sauce, wheat berries, wheat bran, wheat protein isolate, wheat starch, some oats) Click Here for an extensive list
Expert Tip:  When reading labels or packaging, "Natural" doesn't mean "safe."  "Natural" only means that the ingredient started out in nature… which can pretty much be everything!
For cooking oil, switch to coconut oil in place of vegetable/canola (both are highly processed, rancid, contain GMO's, and wreak havoc on the gut). This will up the good, healthy fats in your diet. Coconut oil has tons of health benefits. I put it on quinoa, lentils, veggies, and also a spoonful in my smoothie every morning.  Since it's a fat, it causes you to feel satiated and makes everything taste better… win-win!
Expert Tip:  Coconut oil has a very high heat point, so it won't burn (creating carcinogens).  This makes it the perfect cooking oil for roasting, sautéing, pan frying… everything!
Go Shopping
Now that you've created plenty of space, it's time to hit up your local health food stores and farmer's markets for some fresh, colorful produce. Food at the farmer's market is beautiful and full of flavor, there's also something nourishing about knowing the people who grow your food. Also look for organic products in Indian and Asian markets; which are generally much cheaper for dried foods such as black beans, lentils and chickpeas. Organic items are important during a detox because it's vital to avoid adding more pesticides, when you're trying to remove the ones currently in the body.
If you buy foods in cans, make sure it is BPA free. Some markets allow you to fill your own bags with staples (dry organic beans, raw sprouted organic nuts, etc.) that often work out cheaper.
Meal Prep
Once you have bought all the ingredients, consider what you want to make and prepare it ahead of time. Here are some food prep tips to save you time:
Cook dry ingredients in batches ahead of time (dried beans, lentils, chickpeas, quinoa)
Make healthy salad dressings ahead of time… use EVOO, ACV, fresh lemon juice & herbs.
Portion your meals into five containers, one for each day.
Place each day's smoothie ingredients in a glass mason jar and store in the freezer.
Expert Tip: Save time with your smoothies by prepping a week's worth of ingredients at once. To start, take five mason jars and place powders first (cacao, maca, hemp protein powder, cinnamon, bee pollen), next a handful of leafy greens, and lastly frozen berries. Put all the jars in the freezer. Each day take one jar, empty everything in your blender… then add liquids (water, almond butter, coconut oil, frozen coconut meat & coconut butter). That way you can just throw everything in the blender and go, instead of taking time to measure and pack/unpack things from the fridge every day.
Take Before Photos
Don't be shy. I know… you may not want pictures of your current body, but trust me.  Grab your camera and take a photo. You may not think so right now, but you will be proud after the fact.
The Scale is Just a Number
It's nice to see your progress, but hormones, water retention, muscle and bone mass and a number of other factors influence the numbers on the scale. Rather focus on your clothing size and the way you feel about yourself.
12 Hours On, 12 Hours Off
Think of your 24-hour day in two cycles… 1) Feed & Energize… 2) Rest & Repair.  Give your body a 12-hour break to rest and repair, a window of no food between dinner and breakfast. Your body will use 8 hours for digestion and 4 hours to deep clean. To put in practice, if you finish dinner by 8pm in the evening, then breakfast will be after 8am the next morning.
Detox Your Social Calendar
Ensure that you stay on track with your detox by avoiding events that revolve around food and alcohol. It's only five days, which should be easy enough during the week.
Add Sleep to your Schedule
The core functions of sleep are to repair, reorganize, clear toxic debris, consolidate memory and learning, and impact metabolic and hormonal function. When we don't give the body the sleep it needs, we see dramatic health consequences. Just two weeks of reduced sleep can increase appetite, moodiness, obesity and the chance of infection. Sleep is one of the master tools for a healthy brain and body. Adults need 7-9 hours each night. Not sleeping well may be one reason why you are keeping on those extra pounds.
Establish the Right Mindset
Success starts from the inside. Remember that these five days are not about changing the way you eat, but rather about changing your mindset towards food and your body. Here are some thoughts to help you stay on track:
Visualize the end-result. How will you feel if you can fit into a smaller size clothing, or when you feel more energetic?
Overturn negative thoughts. Whenever you think something negative about yourself, think about two positive things that you love about yourself. Before you know it, you will feel fantastic.
Push Through. Have you failed to lose weight despite your best efforts? It's likely that you missed the most important key to losing weight and keeping it off: detoxification. In the first few days of your cleanse, you may feel headachy, lethargic and nauseous. However, when you have rid your body of toxins, you will feel lighter, healthier, more energetic, focused, and simply fantastic. It will be easier than ever to make the right food choices, because you will have experienced the benefits of good nutrition, and your body will want more of that!
References:
Metabolism journal
Journal of Neuroscience
Journal of Environmental and Public Health (2012)
The 5-Day Real Food Detox by Nikki Sharp.
Journal of Clinical Nutrition http://www.ncbi.nlm.nih.gov/pmc/articles/PMC3701293/
Roczniki Państwowego Zakładu Higieny